Top 3 quartz manufacturers in Vietnam, 15 years of establishment and development; ​​Excellent service; etc. are titles for Vinaquartz, the leading manufacturer and supplier of engineered quartz surfaces in Vietnam. Not only possessing the advantages of being a member of the large multi-industry Nhat Huy Group but Vinaquart's quartz quality is also appreciated by domestic and international partners. So what are the main reasons determining the No. 1 position on Vinaquartz's favorite surface material race?
Amazing collections with chic designs for every style
With over 15 years of experience developing product lines of mineral-based materials and expertise in operating in the international market and hundreds of significant customers, Vinaquartz constantly creates surface product lines. variety and best-selling quartz such as Calacatta Collection – VQ8096, Giotto Calacatta – VQ8066, Calacatta Classic – VQ8068, Calacatta Gold – VQ8098… or Carrara Collection with Haida Carrara VQ8008, Carrara Gray VQ81000. Vinaquartz offers more than 100 designs with a wide range of colors and stone patterns, meeting all the needs of design style, aesthetic taste and suitable for all financial budgets of users.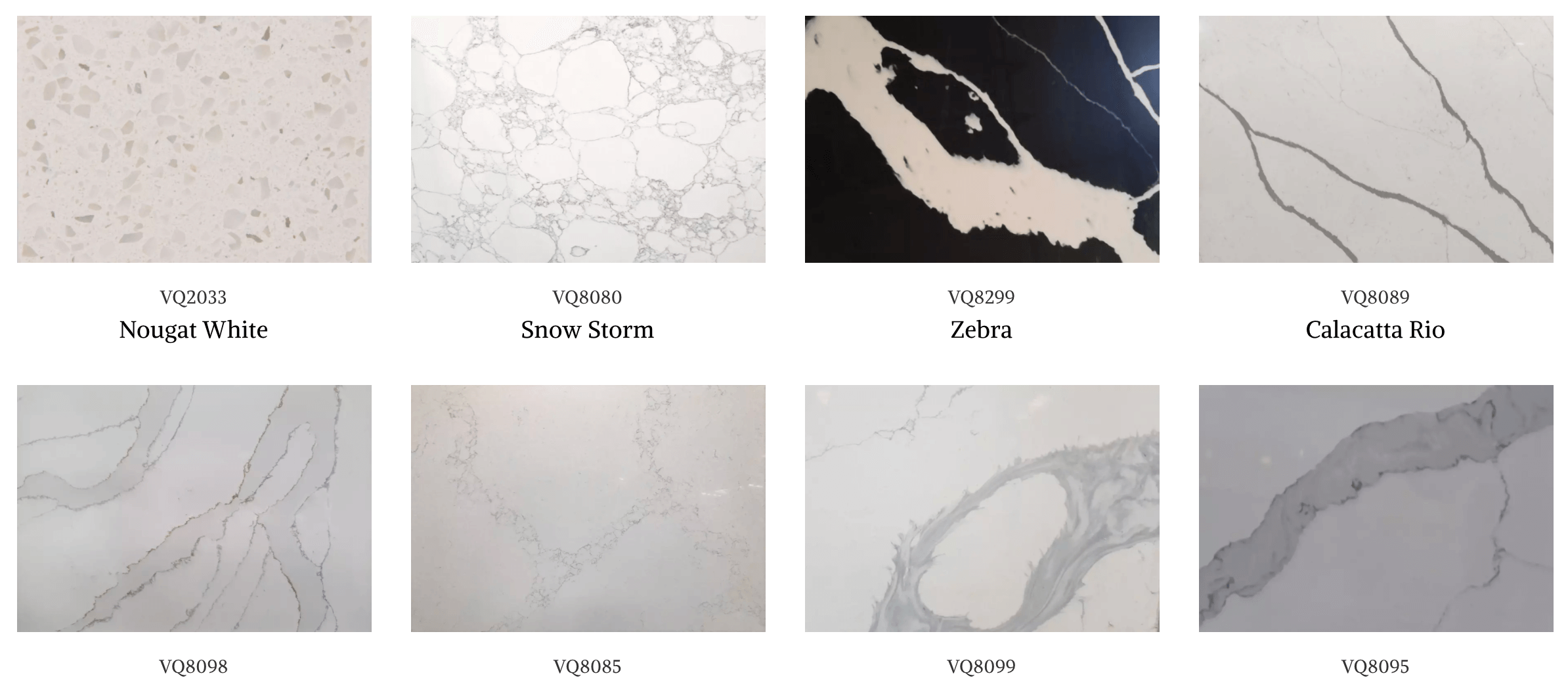 With the slogan "Inspired by nature made for life" and creative design and diverse color palette, Vinaquartz will turn all customers' design aspirations into reality.
Advantages of strength, heat resistance, and timeless durability
Quartz is considered a mineral with a hardness second only to diamond. At the same time, it has a very uniform and accurate oscillation, so it is used as an essential raw material for high-end products that require high-performance processing and processing techniques. Quartz is unlike natural stone with many impurities, especially a lot of CaCO3 (limestone powder) in the composition, is easy to absorb and absorb moisture leading to mold and fungus during use.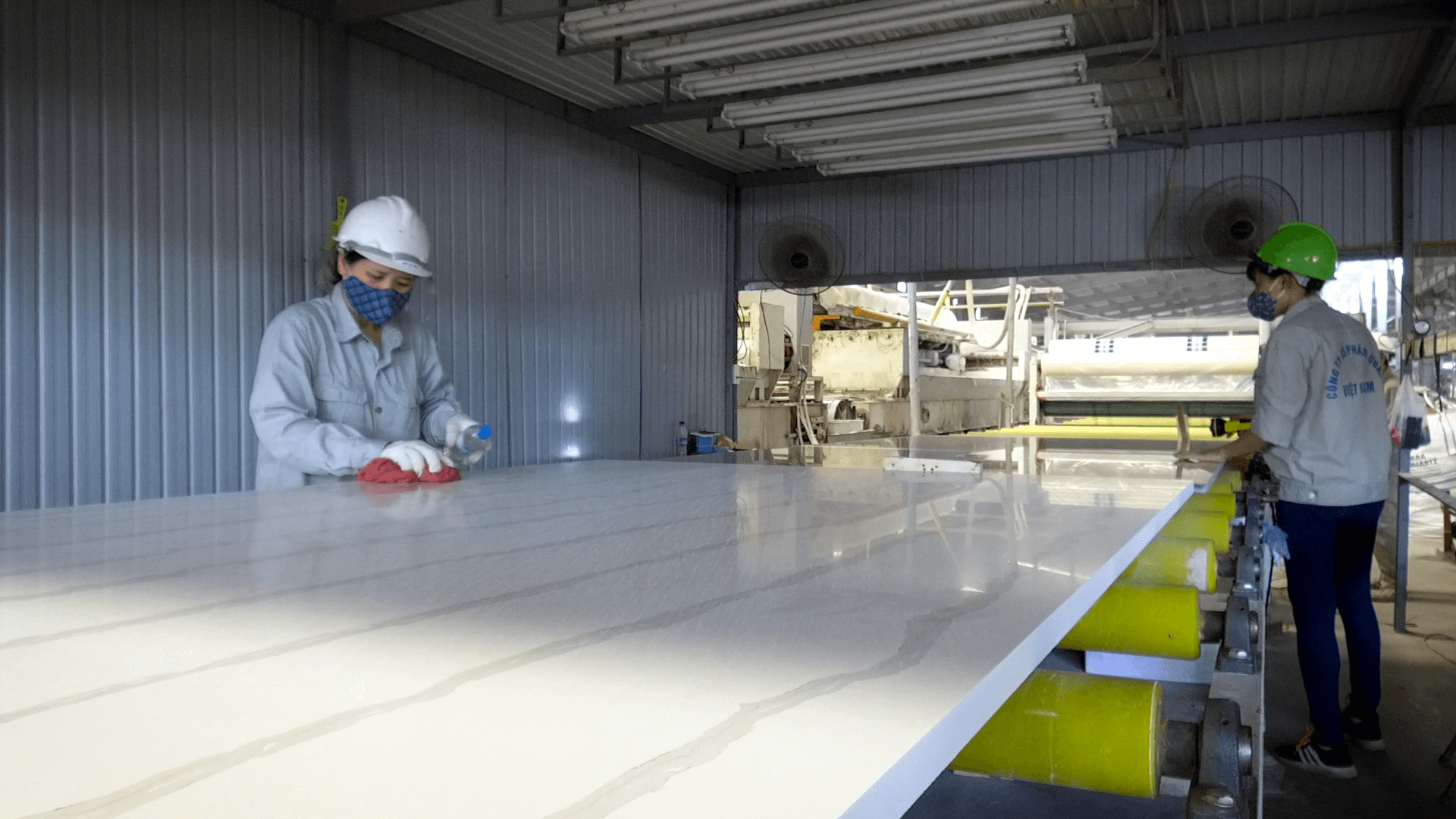 Vinaquartz's quartz slabs are made by combining Blends 93% natural quartz stone with a small amount of resin binder and colorant, completely airtight, achieves low water absorption almost impermeable (less than 0.05%), optimized bearing capacity, heat resistance. Products meet all test indicators of demanding customers such as the United States, Canada, or India.
VinaQuartz possesses prestigious certificates in health & environment
Vinaquartz's quartz slab is one of the very few materials that meet the criteria for preventing bacteria. Our product possesses absolute solidity, waterproofing, anti-fouling, preventing bacteria from multiplying; Vinaquartz stone meets international standards, meeting prestigious international certificates such as NSF (by the Food Safety Organization). United States NSF International, which recognizes that the Company's products are safe for use in laboratories, medical facilities, and food preparation environments), ISO 9001-2000 and ISO 14001-2004 certifications for the system quality & environment management. Vinaquartz product line is accepted for export to many countries in Asia, the EU, North America, Latin America…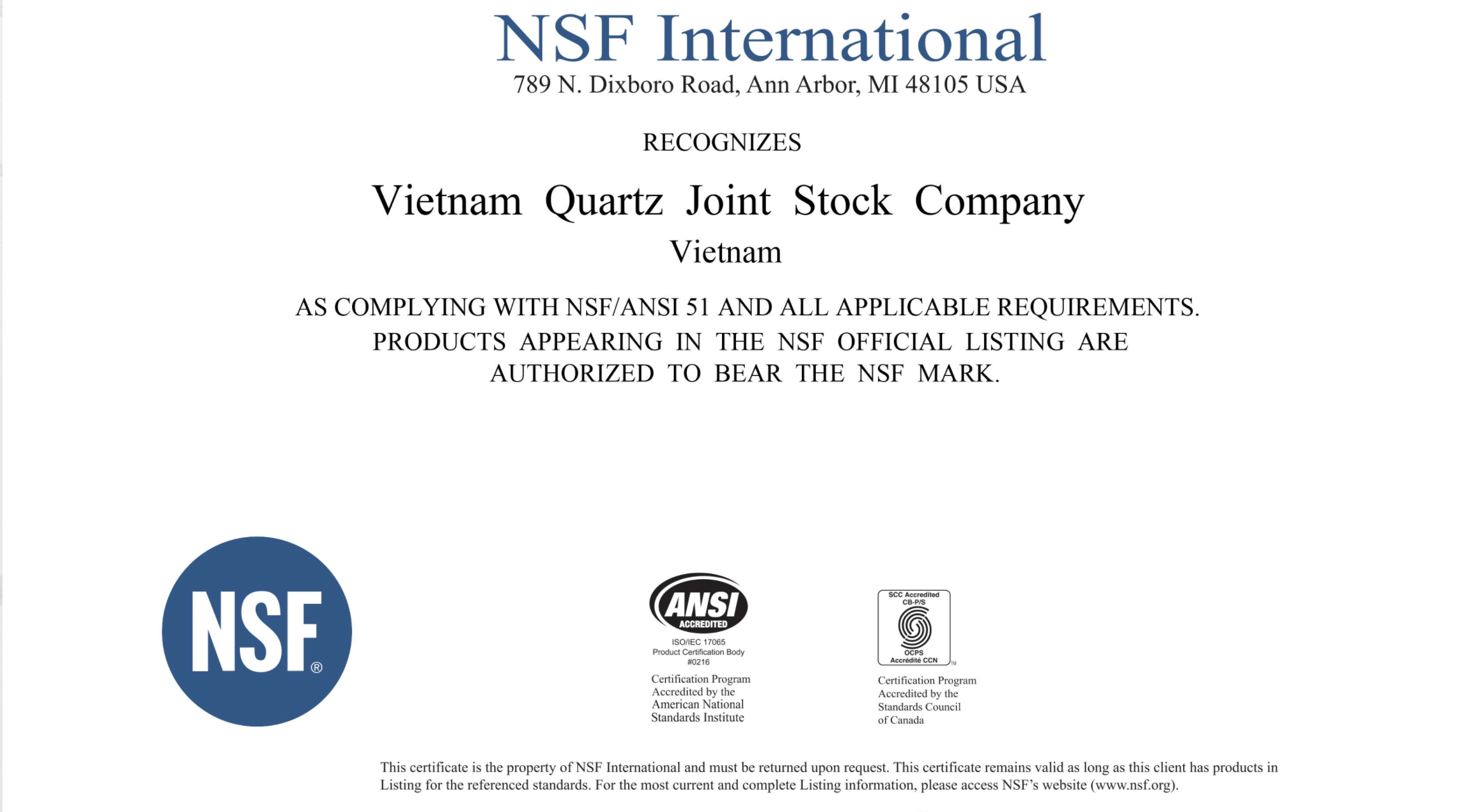 Easy maintenance or cleaning
Vinaquartz quartz countertops allow you to have more free time to enjoy your home and less to worry about the standard maintenance and melting problems. Our quartz requires no periodic sealing, polishing, or remodeling.
Quartz is very resistant to stains, so it is perfect for kitchen and bathroom applications. Cleaning quartz countertops is as easy as wiping them down with mild soap and water.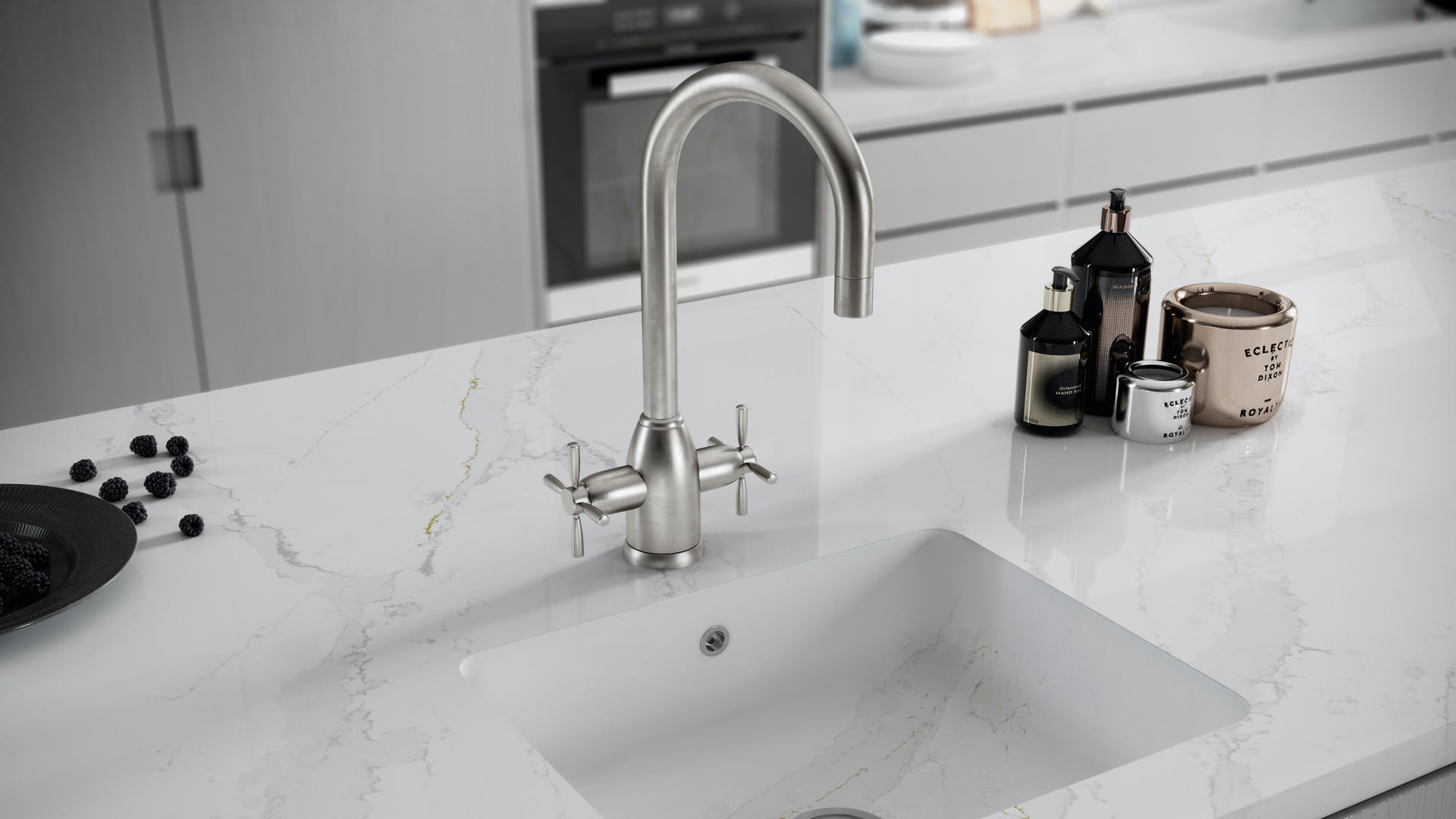 Whether you want a product that mimics natural stone or a high-end handcrafted piece on the market with a unique artificial color, you can find it in Vinaquart's quartz collection in Vietnam. With outstanding physical and mechanical advantages and diverse and harmonious designs, bringing a sense of comfort, inspiration, and energy to living space, it is easy to explain the cause of the original artificial stone. Vinaquartz quartz is the top surface material in Vietnam.