The time has come! Our newest Quartz colors are HERE, and they might be the next best thing to enter our best-selling collection!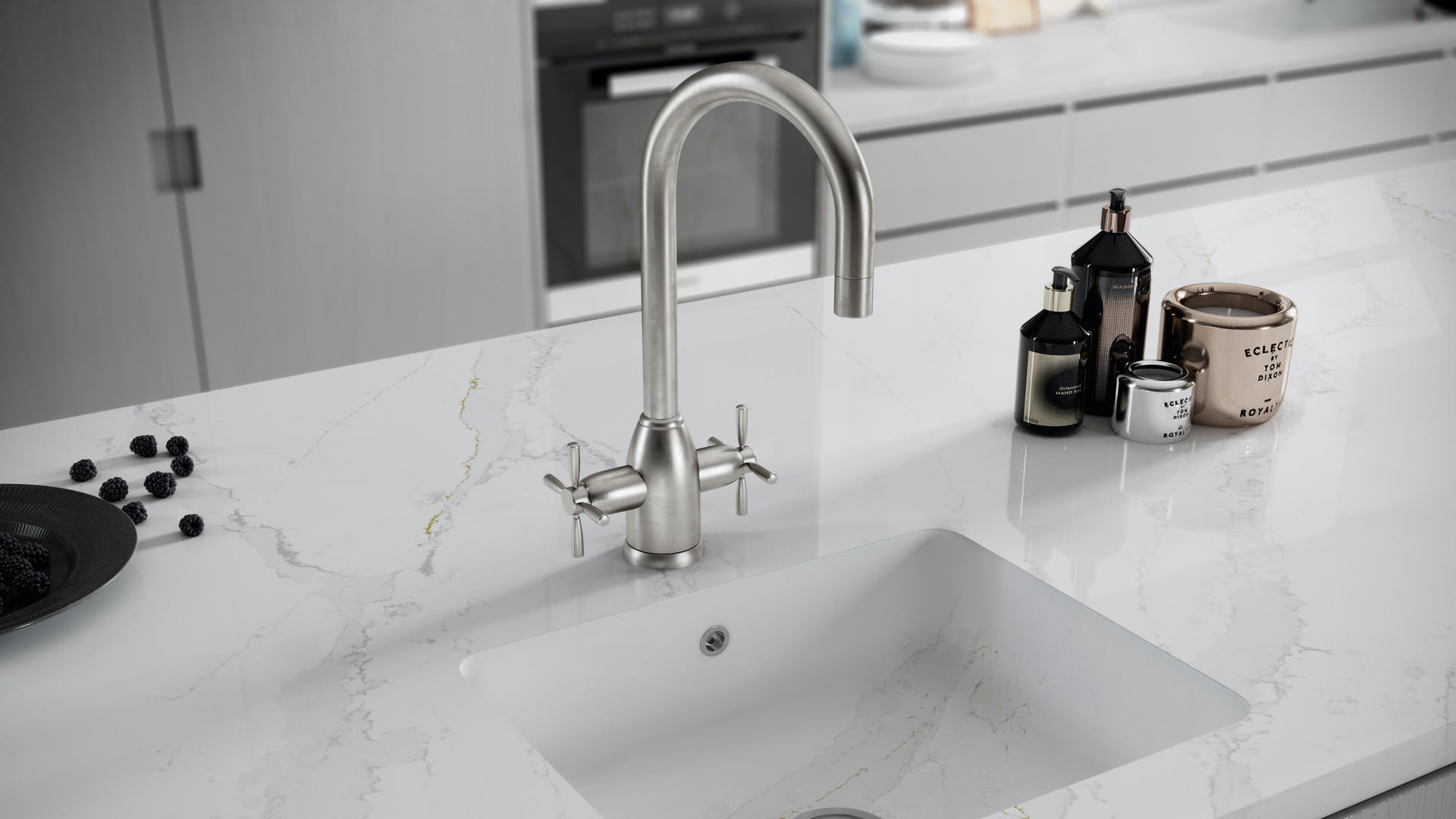 With the possibility of enhancing the beauty of Quartz surfaces, Vinaquartz has studied and launched a wide range of series. Of all the varieties of designs, Calacatta is one of the most sought-after currently in the market for its natural beauty and uniqueness.
May you interested: Quartz Calacatta – The Beauty of Queen
The Most Popular Quartz Countertop Colors in 2022
WHAT MAKES THESE QUARTZ SLABS UNIQUE?
All of these slabs are unlike any other material on the market. Quartz is well-known for its extreme durability and resilience. It is resistant to various factors, including heat, scratching, staining, and chipping, making it an ideal surface for kitchen countertops and other home applications! Quartz slabs can be used in shower walls, fireplaces, and other applications. This material can be adapted to any home style or design preference!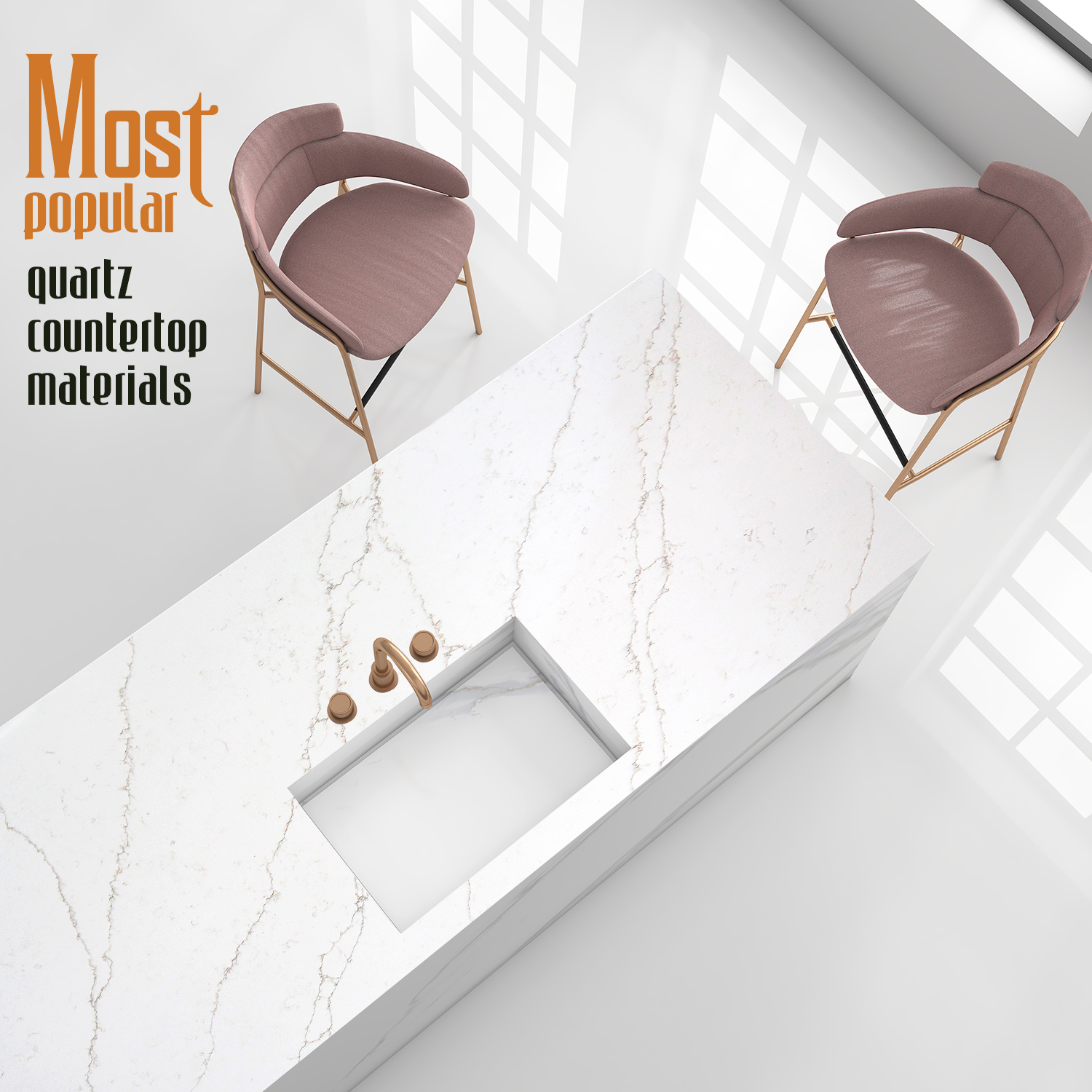 Considered the trendiest countertop material this time in the USA, quartz is the first choice for many architects and designers. The elegance of the white and pure background and the luxury veins that run along the slab evoke a unique, timeless sensation. Our new colors contain a unique element that is unparallel to other designs you've seen before. Let's take a closer look!
REVEAL NEWEST QUARTZ SLAB COLORS
This season, Vinquartz would like to release new colors named: Rio Gold VQ8084W, Black Thunder VQ8220, and Calacatta Black VQ8027W. These slabs are unique and intricate in their way, and we are excited to finally present to you the newest craze in the industry!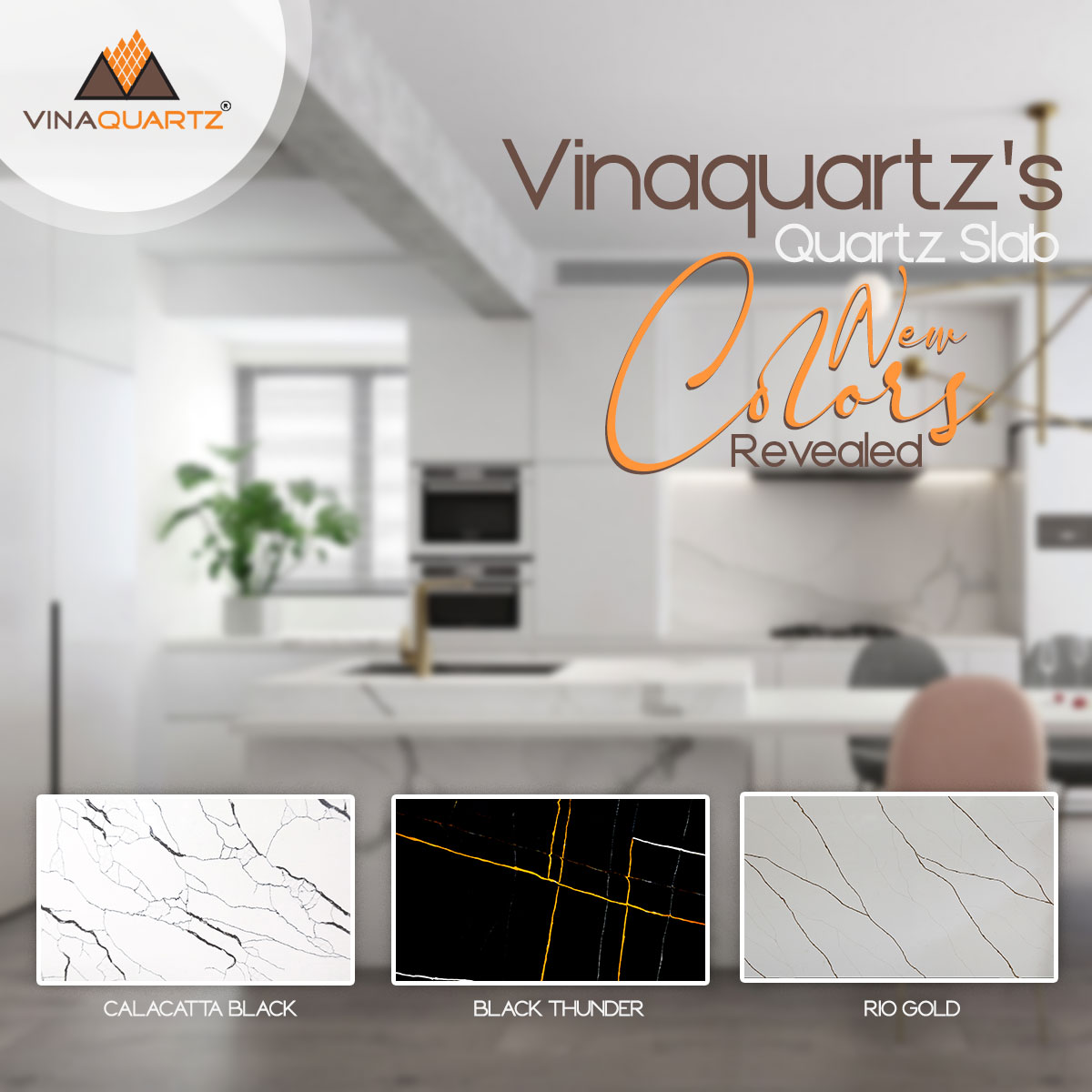 1- Rio Gold VQ8084W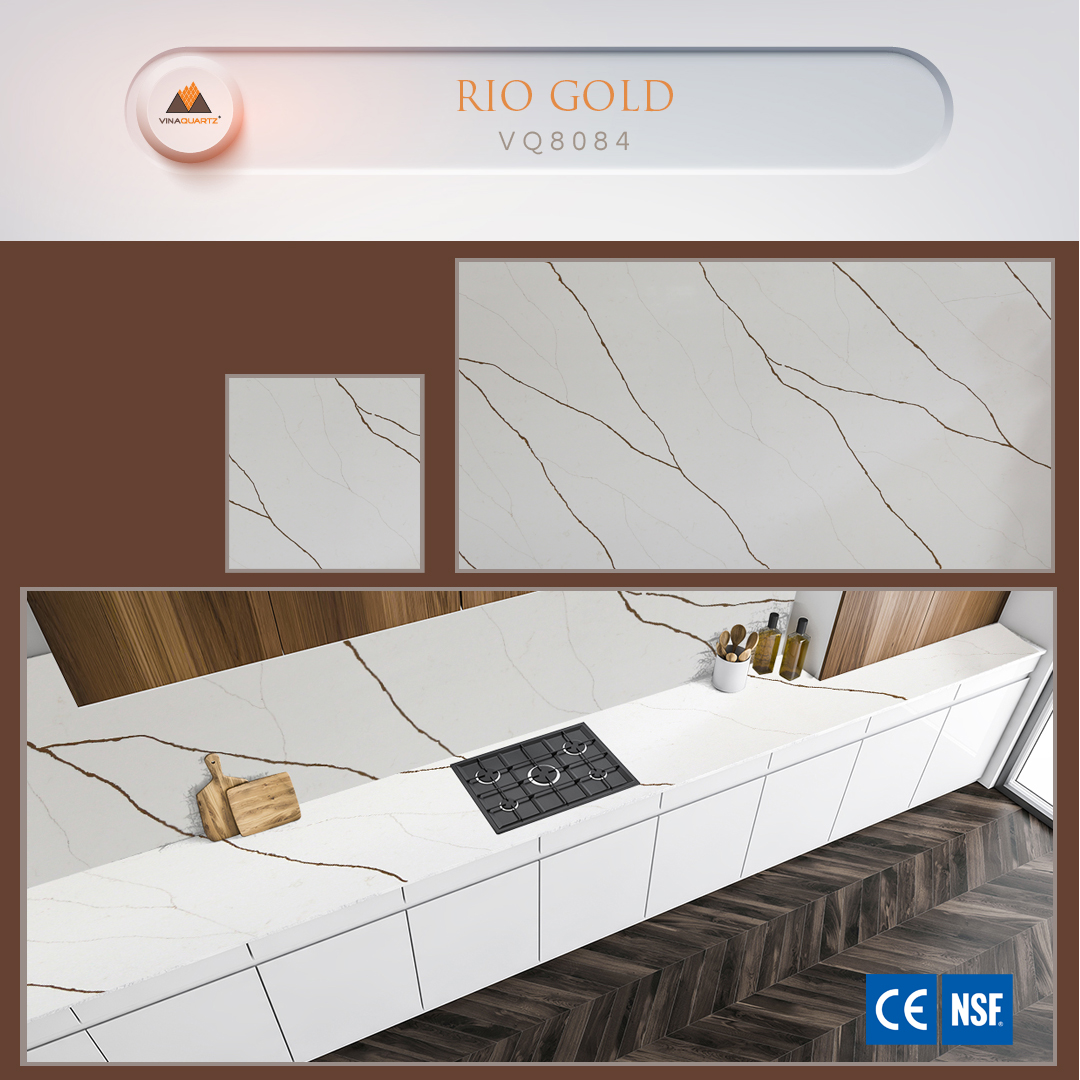 This ornate design will definitely catch anyone's attention! The Rio Gold is a white background material with alternating dark and light yellow veins that sparkle brightly in the sunlight, making itself noticeable to all who bypass the material. Spending lots of time at home with our families has become the new normal. It is the perfect countertop to transform an ordinary home into a lavish living space!
2- Black Thunder VQ8220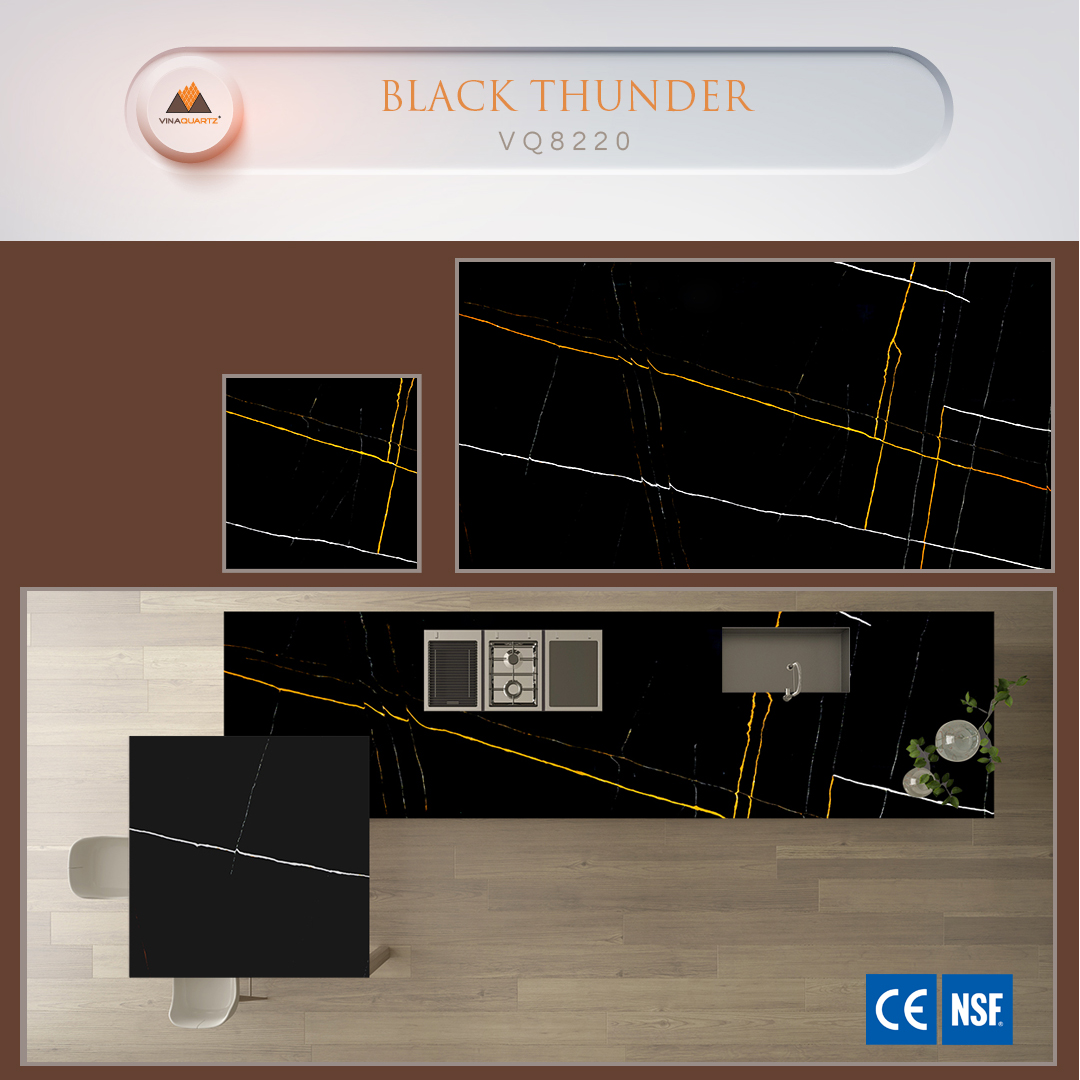 Stay calm, cool, and collected with the Black Thunder quartz! This design offers a classic deep black artificial stone with striking white and gold veining and highlights that run completely through the slab, resulting in a more natural appearance. It is suitable for both classic and modern inspired design projects.
3- Calacatta Black VQ8027W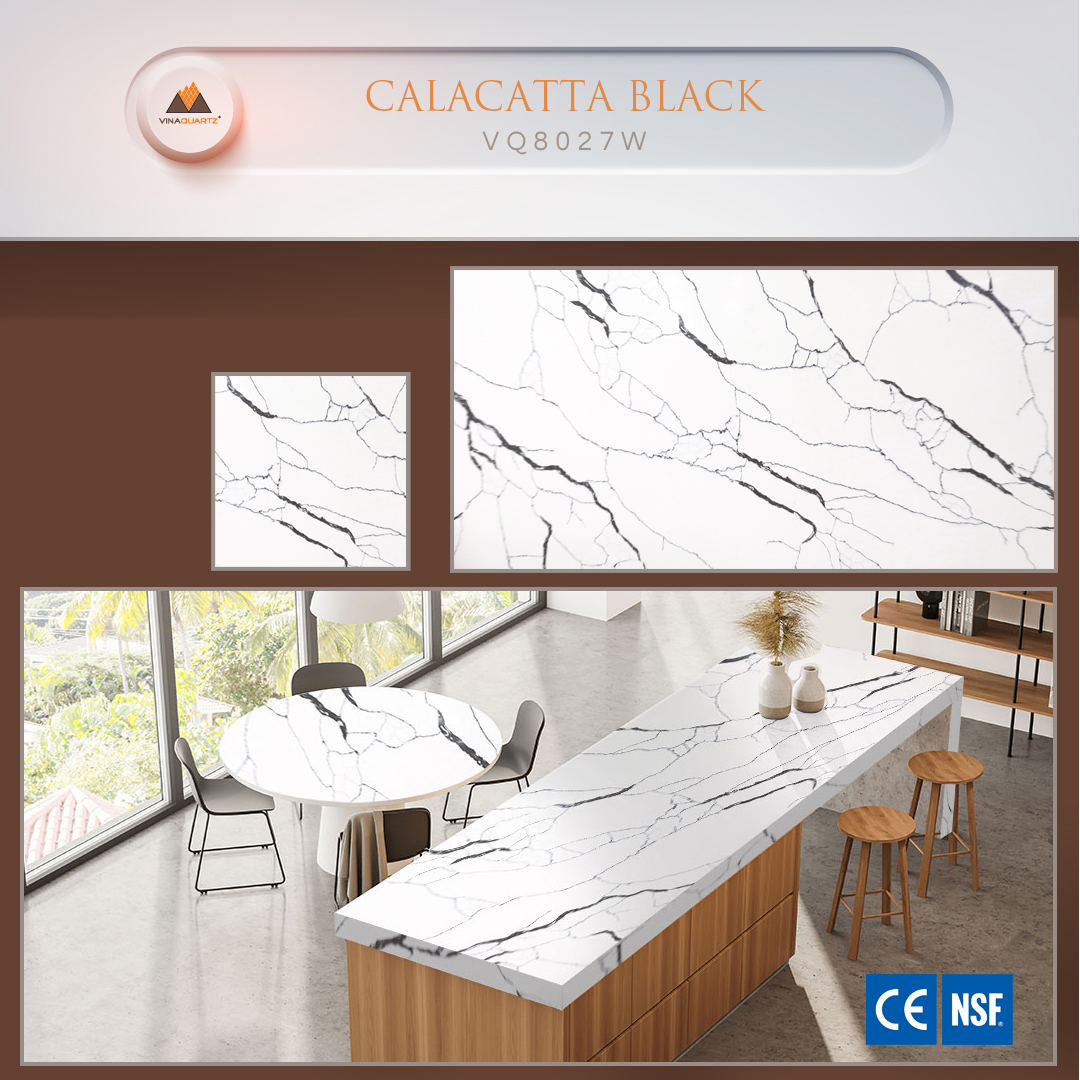 Calacatta Black by Vinaquartz has a white background with a prominent black vein running across the stone. The monochromatic pattern is bold and trendy, and it complements a décor scheme that allows the worktop to take center stage. If you are interested in a luxurious look, Calacatta Black should definitely be on the top of your wish list!
May you interested: Update the sea freight situation in the first half of April 2022
The appearance of marble is classic and timeless, and it is also incredibly versatile. Quartz countertops may be one of the hottest trends of 2021 & 2022, but people are understandably concerned about choosing a design that will look just as stylish and fresh ten years into the future as it does today. That's why our new quartz countertop colors have reached star status – with quartz; you can have a look that everyone loves while also being a worry-free finish.
Love these designs? Stay tuned for updates regarding and contact us for the best price! You can follow us on Instagram to get the latest news! If you're looking for more inspiration for your next design project, check out our blog!