Quartz slab manufacturers understand the importance of packaging their products for safe and secure transportation from the factory to different destinations. Basically, the manufacturer protects the quartz slab products according to the customer's demand for the size and thickness of the stone. Plastic bags, plastic wrap, corrugated boxes, wooden crates, straps, plastic crates are some of the materials that quartz slab manufacturers often use to protect the stone from all impacts during transportation.
Let's learn about the packaging of quartz slabs at Vinaquartz from Vietnam to understand more about the professionalism of the leading stone suppliers in the region and the world.
Packing quartz slabs at the factory
In the opinion of Vinaquartz – a leading brand of artificial stone production in Vietnam, the quality of the packaging is as important as the quality of the product. The factory invests a lot of money in packaging materials, wood, or other packaging materials to ensure that stone products reach customers with the least unusual incidents or scratches.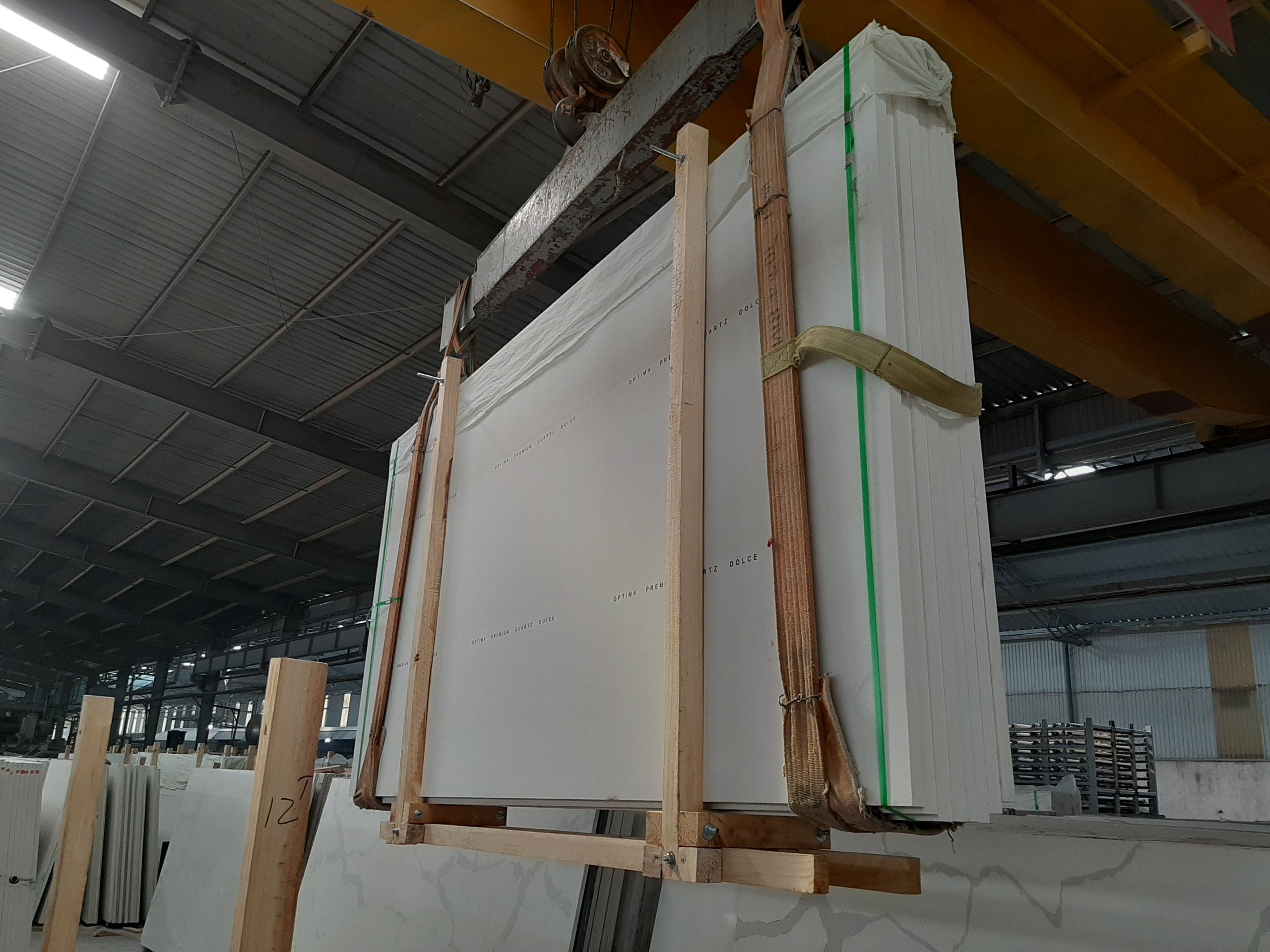 Polished quartz slabs are packed in fumigated wooden crates or trays with the help of C clamps. The bundles are made of the finest quality wood and designed with sturdy locking pins. Wood used for packaging must have a residual moisture of at least 20%, wooden crates with foam plastic sheets or iron straps must be cleaned to minimize the phenomenon of corrosion. Quartz slabs are compacted in these wooden bundles (wooden trays). The factory often puts a plastic sheet or nylon layer between each stone to avoid friction during transportation. Finally, lock all the bundles tightly and correctly and nail them to the floor of the container so that the bundles cannot move during transport.
Visit our Vinaquartz factory: https://vinaquartz.com.vn/factory
Packing cut quartz stone as customized
In addition to the orders of the popular or jumbo size slabs, there are many customers who request to cut slabs according to specific needs. Depending on the small or large, thin or thick sizes, quartz slab suppliers in Vietnam will have flexible adjustable packaging boxes.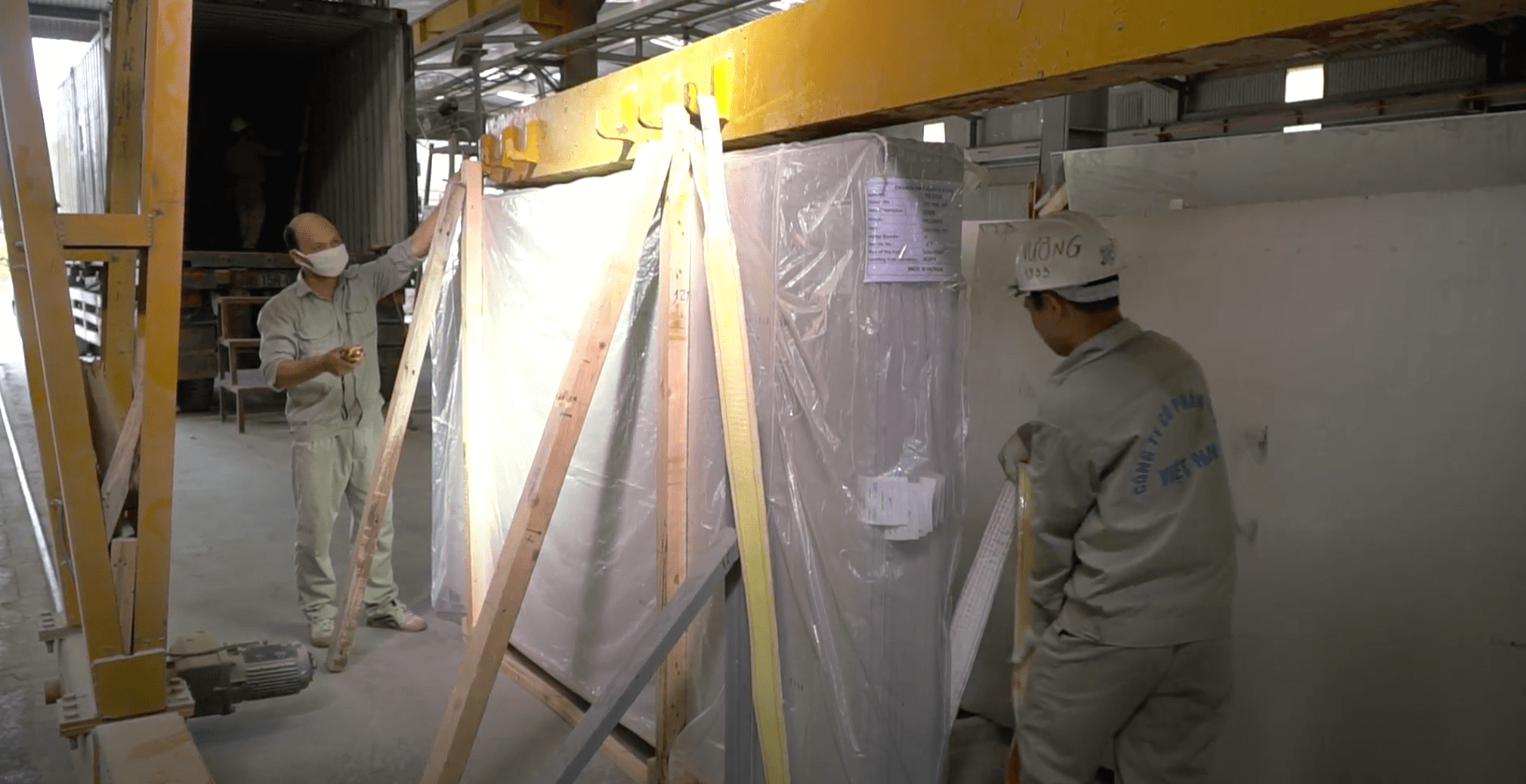 According to international standards, factories pack quartz slabs in fumigated wooden crates, each stone is separated by a soft paper strip to avoid friction during transportation. Then they place a transparent plastic sheet as a cover on each wooden crate/pallet and fasten each wooden crate with an iron/plastic strip. Inside the storage are containers or warehouses for boats or trucks, wooden crates containing quartz slabs are locked/fastened together so that they do not move.
With smaller standard size slabs, they can be packed in foam boxes or paper boxes according to the instructions and requirements of customers or can also be packed in wooden crates as above.
Information symbols on wooden crates or wooden bundles
On each wooden crate, Vietnamese manufacturers have a mark indicating Material Name, Payment Size, Number of slabs/tiles in carton/bundle, block number and origin seal, supplier's name.
Shipping of quartz slab products is usually done in containers 20 ft long. For each destination, whether domestic or foreign (based on region and geographical distance), factories have standard allowable weights of rock in each container. For example, for a destination that is the United States, the number of tons in a container is different from the destination of Europe or other countries…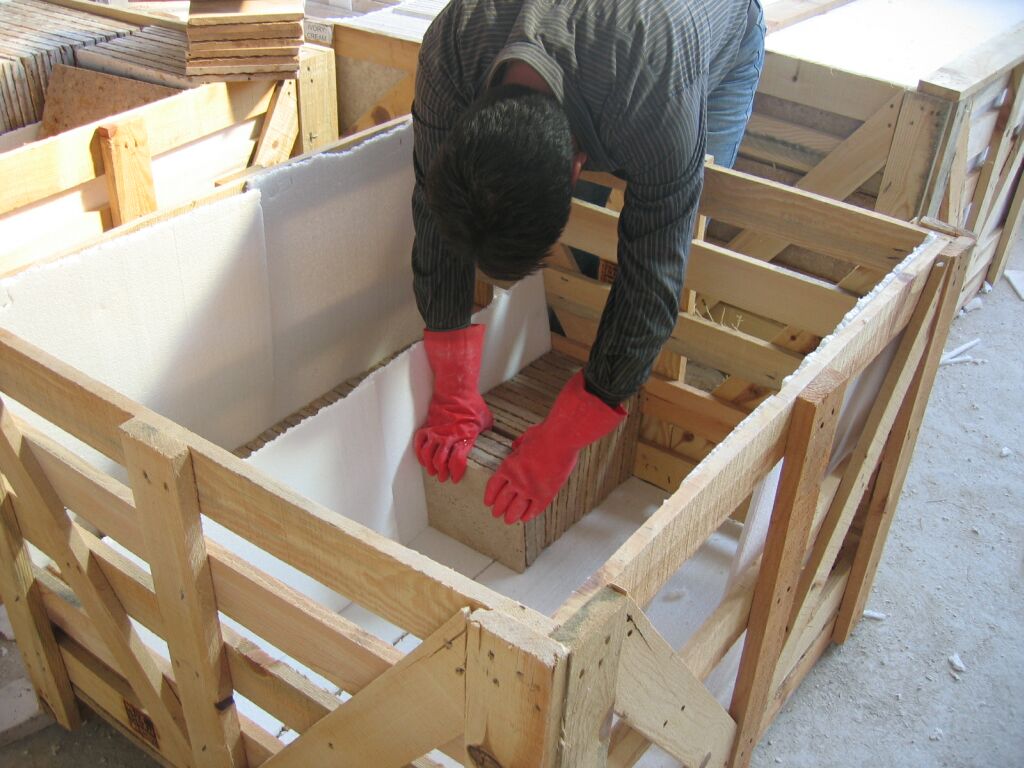 Manufacturers can load goods according to the weight and quantity required directly by the customer. However, with orders without specific requirements, in Vietnam, quartz factories often pack and transport containers with flexible quantities in containers depending on the size of the slabs such as 10mm, 20mm, or 30mm thickness.
At Vinaquartz, the factory takes care of all stages of packing & loading, taking photos after fastening or locking the wooden crates inside the container and sending them to the customer for inspection and approval.