Interior experts and lovers of quartz materials cannot deny the attraction of the Calacatta with gold veins in 2021 when its image appears everywhere and is searched and ordered by many people all around the world.
Prominent in hundreds of Calacatta vein colors is the Calacatta Gold countertop model when it is truly conquered by its luxurious and outstanding beauty in any design style. In the world, the Calacatta Gold veins color is one of the year's trendiest countertop materials.
Calacatta Gold is not just a countertop; it's a work of art.
In general, traditional white quartz has long been a wonderful element of art when it comes to interior designs. When the Calacatta Gold appeared on the market, it further confirmed the value and popularity of white quartz in all interior styles. The beautiful white quartz material is truly a work of art when featured in any design.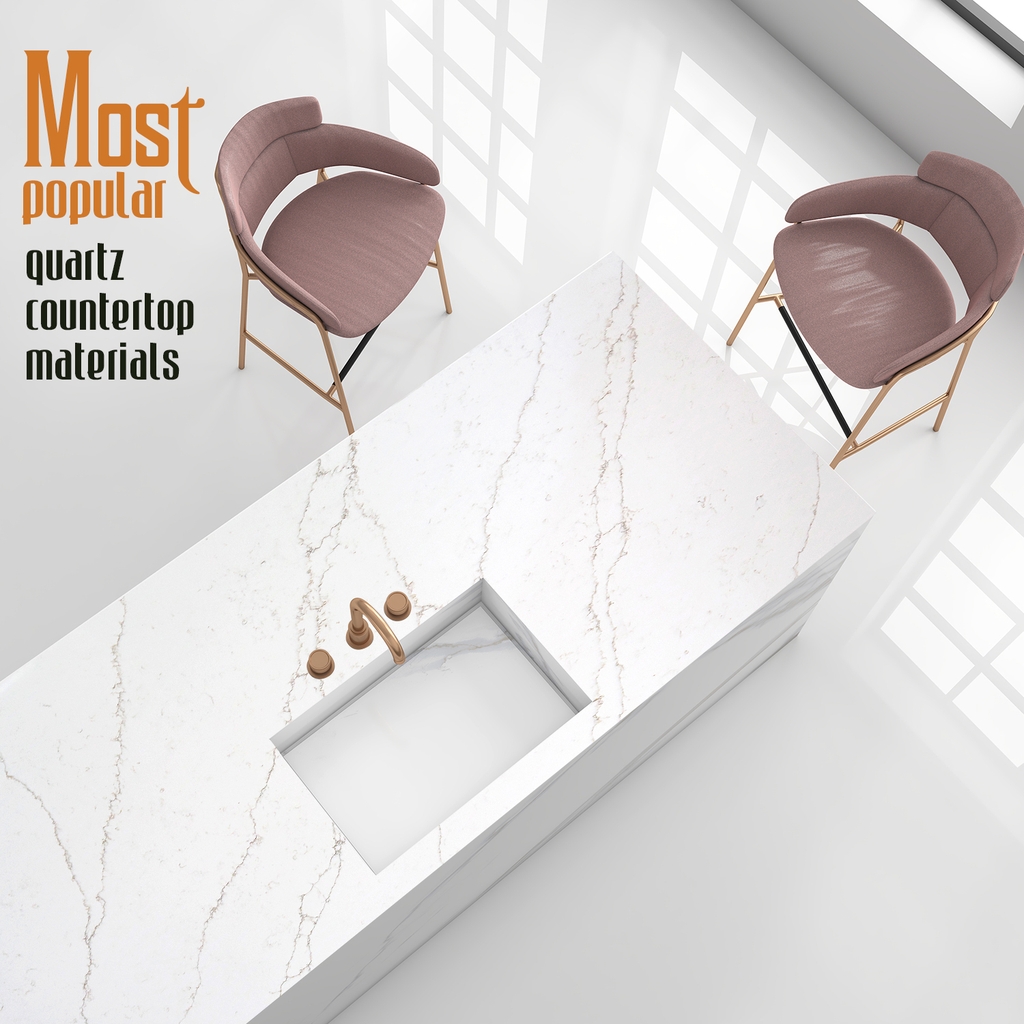 The elegant look, gorgeous colors, and intricate Calacatta yellow quartz slabs captivate many homeowners looking for their kitchen and bathroom designs. Specifically, the areas using Calacatta Gold veins include the bathroom floor, accent walls, backlighting, etc. The bright whitest background design with yellow tones helps the space become more colorful and cozier. In addition, this Calcatta Gold slab is also suitable for repairing furnaces, reception desks, or areas prone to using yellow light, etc.
Read more: The best artificial white stones on the market
Interior styles that make effective use of Calacatta Gold
From the perspective of a manufactured quartz supplier, we suggest several interior types that combine with Calacatta Gold to bring optimal prominence and elegance to the trending space of 2022.
1. Calacatta Gold for wall, entrance
Calacatta Gold will stand out when used for large spaces, such as walls and floors. Use this material for the entrance to the house to create a sense of elegance when entering. Calacatta quartz slabs have a variety of stone veins to match the wall to help create accents. You can make the space even more impressive by designing an accent wall with a Calacatta Gold color palette that combines natural light effects that make the golden beige of the stone veins stand out and create a feeling of cozy and luxury.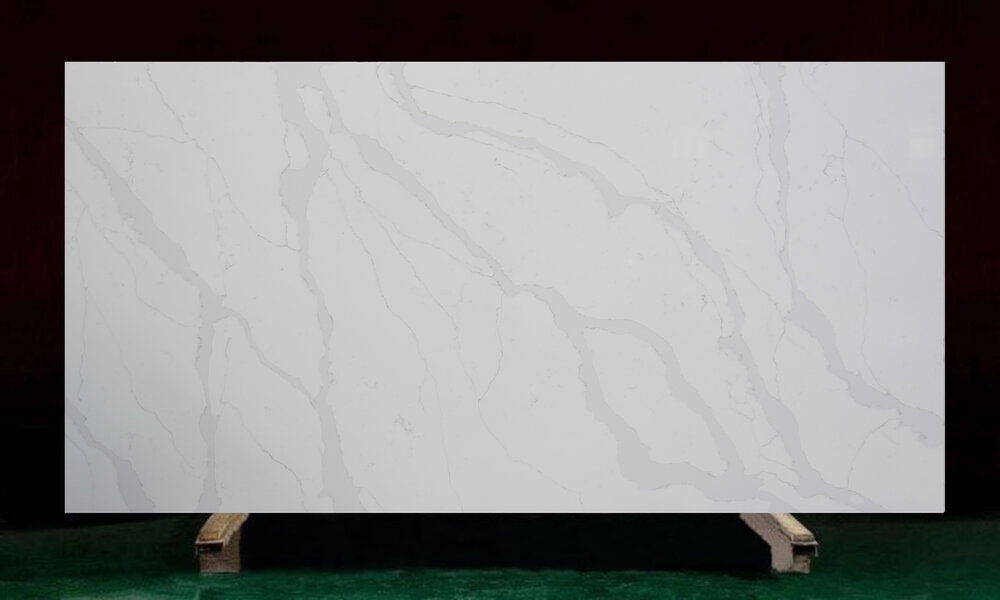 Vinaquartz's Calacatta Gold – VQ8098W
2. Calacatta Gold transforms bathroom style into a home spa
With today's architectural designs, most interior experts prioritize the design of modern bathroom spaces, such as at a beauty spa, to bring the most relaxing moments to the homeowner. Calacatta Gold is considered the perfect surface material to make that dream come true and create stunning bathroom spaces; this material has a soft color that makes anyone feel at ease. Add greenery to your design to make the room more fresh and relaxing.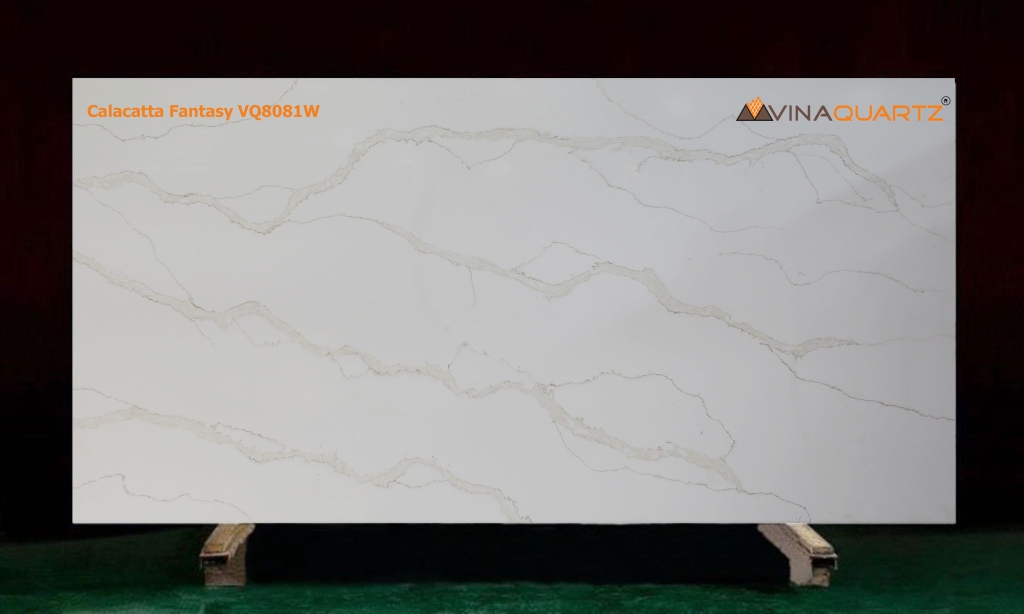 Vinaquartz's Calacatta Fantasy – VQ8081W
3. Calacatta Gold for the modern kitchen
The beautiful white background color and delicate pattern of the quartz material will add sophistication to any modern kitchen. Calacatta Gold is especially suitable for kitchen countertops because it can pair beautifully with gray and silver – the most popular colors for a kitchen. For example, a kitchen has light yellow-gray chandeliers, silver backsplash, hardware, and stainless steel appliances. This quartz is one of our best-selling countertop materials and is the perfect solution for those who wish to create a modern kitchen design.
4. Calacatta Gold for makeup cabinets, bathroom cabinets
Timeless and elegant, Calacatta Gold is the perfect choice for the main counter in the bathroom or washroom of commercial buildings. It is not only beautiful but durable and can provide lasting beauty for years to come. This material can open up a space and create a relaxing appeal.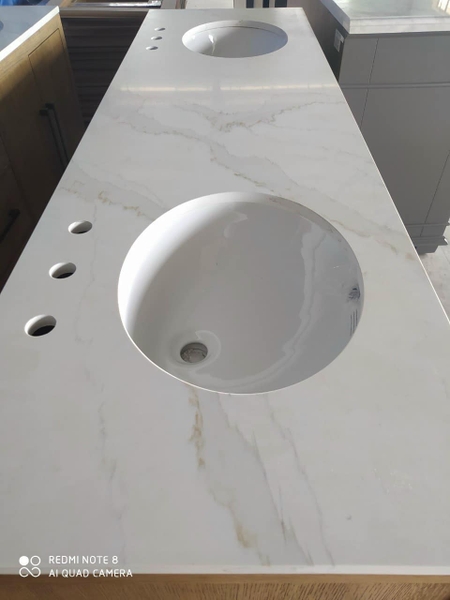 Vinaquartz's Calacatta Gold vanity top – VQ8098W
Vinaquartz Calacatta Gold Veins – The hottest quartz colors on the market
The above are just a few suggestions for coordinating Calacatta Gold's interior design. There are many ways to create a beautiful space with Calacatta's collection of patterns, you can refer to Vinaquartz's samples here.
At Vinaquartz, according to the business data report for 2021, our Calacatta Gold is in the top 3 hot colors of the factory.
Here are the hottest Calacatta Gold color codes from Vinaquartz:
New gold veins Calacatta: VQ8022W – Infinity Gold
VQ8081W – Calacatta Fantasy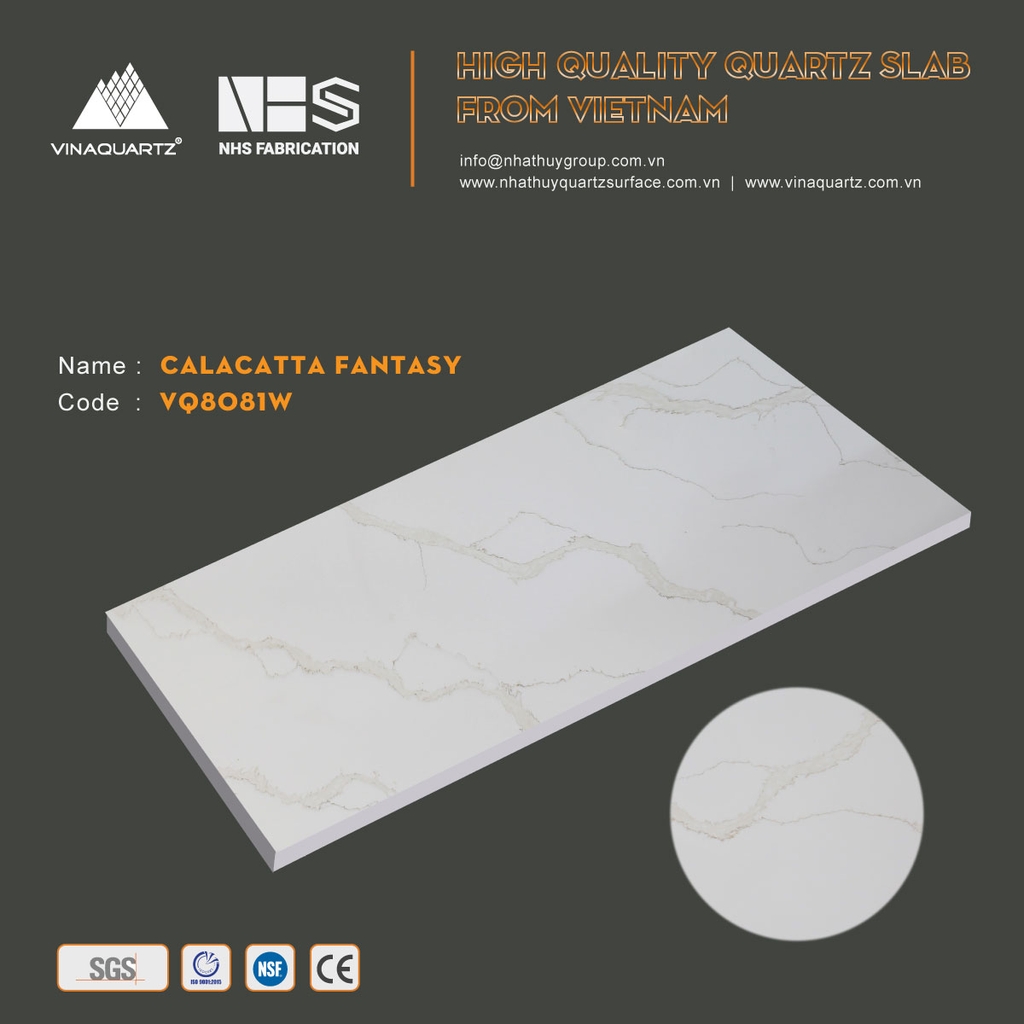 VQ8064W – Valentine Gold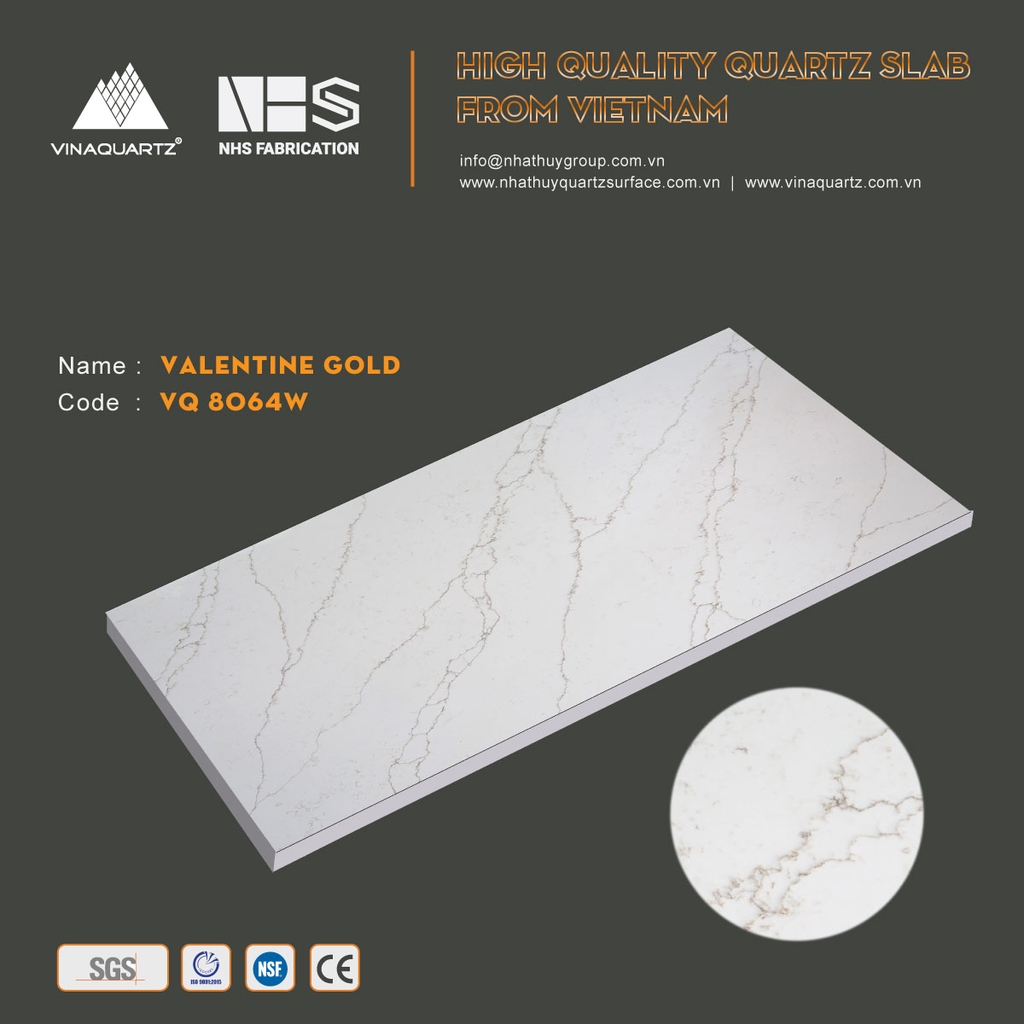 VQ8084W – Rio Gold
VQ8098W – Calacatta Gold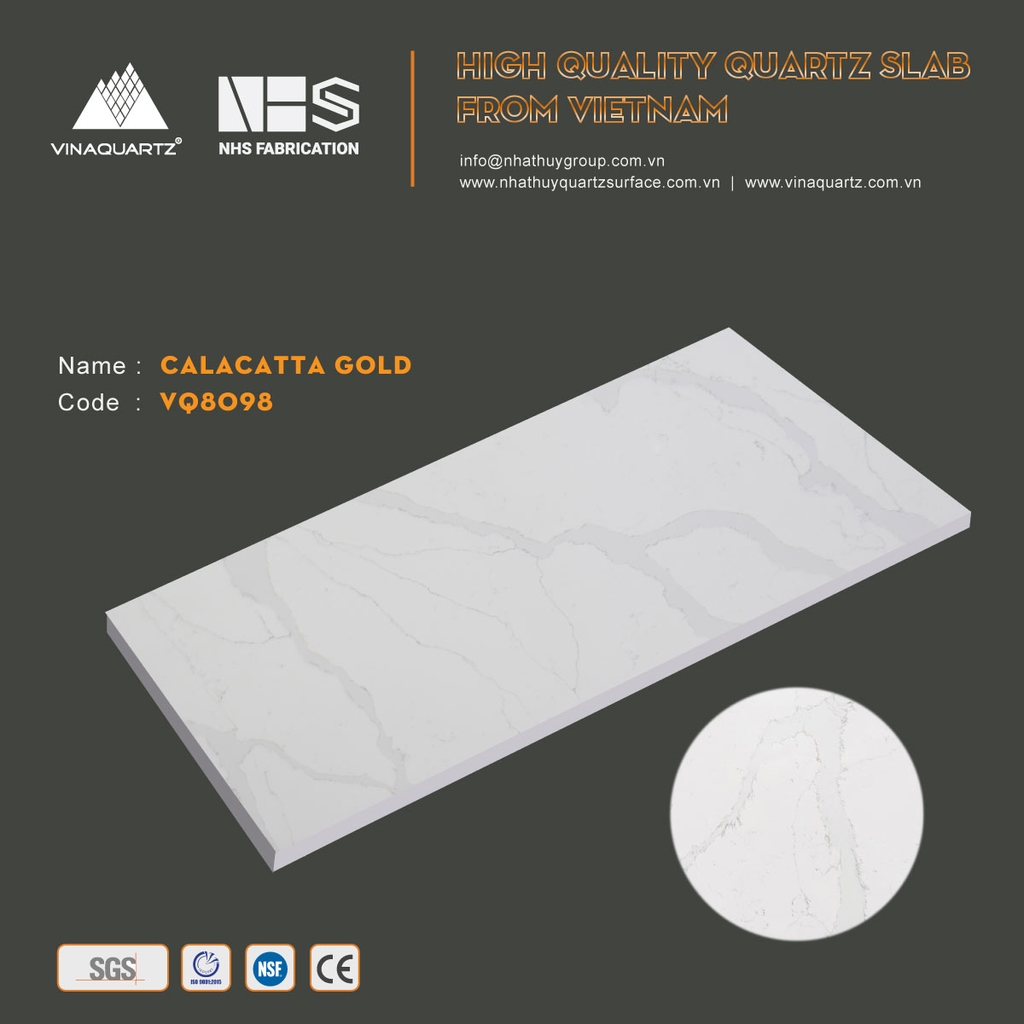 Ready to take orders from today. Contact us immediately to receive a FREE SAMPLE!
See the full collection at: www.vinaquartz.com.vn | www.nhathuyquartzsurface.com.vn
Email: info@nhathuygroup.com.vn | WhatsApp: +84902267398
May you be interested: White Carrara – Never gets old
How professional is the packaging of quartz slabs in Vietnam?