Quartz is being popular worldwide as one of the beautiful, luxurious interior stone materials with many distinct highlights. The development of quartz stone processing technology has created many diverse models and modern collections, meeting customers' needs. One of them is White Carrara – a quartz line with a long history, but until now, White Carrara is still the most popular color and has outstanding sales compared to other quartz collections.
Read more: The best artificial white stones on the market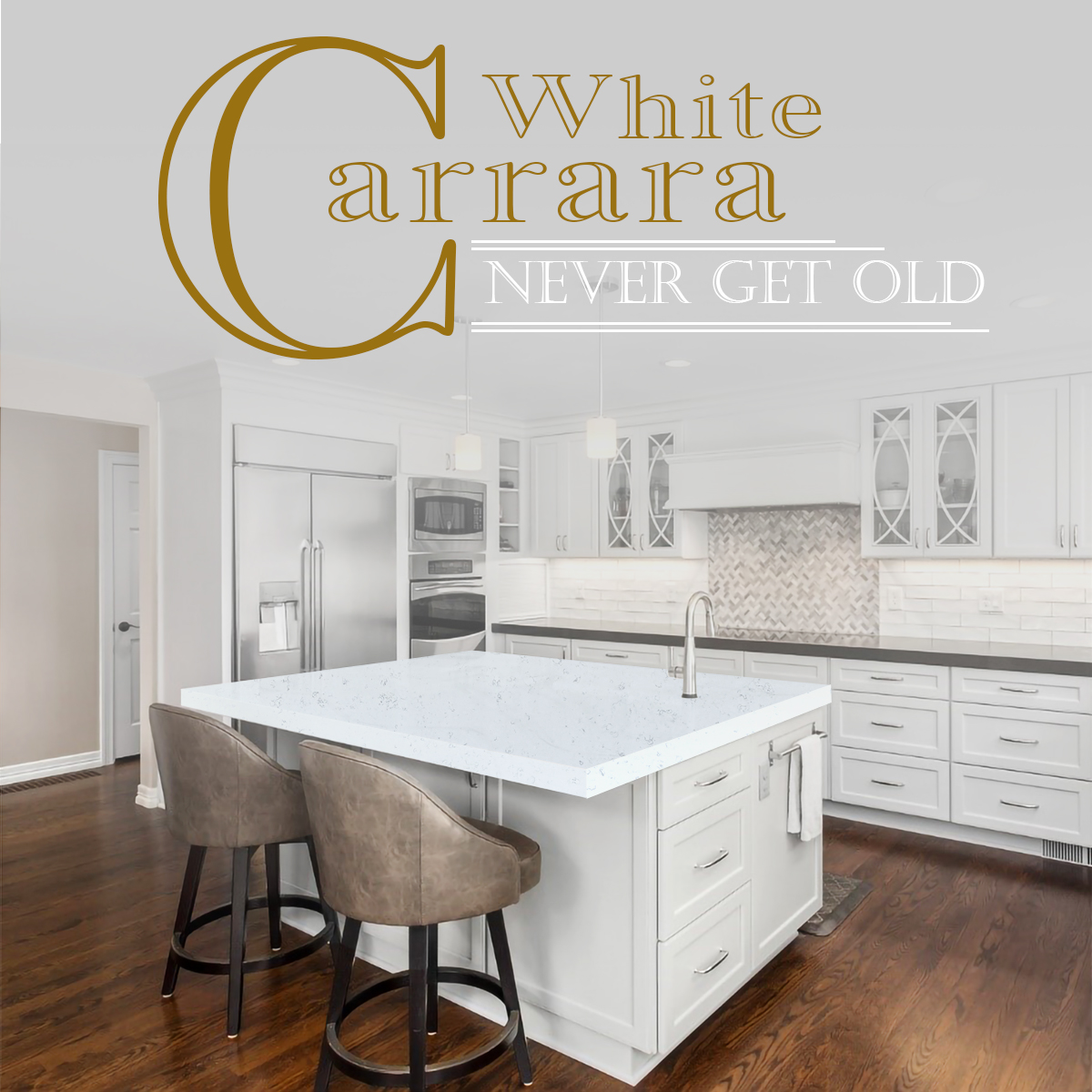 Carrara Quartz
Carrara is one of the most used quartz stones in the world, originating from the city in Tuscany – the romantic land of Central Italy, where this stone was first exploited and was also the main material to build the ancient Roman citadel.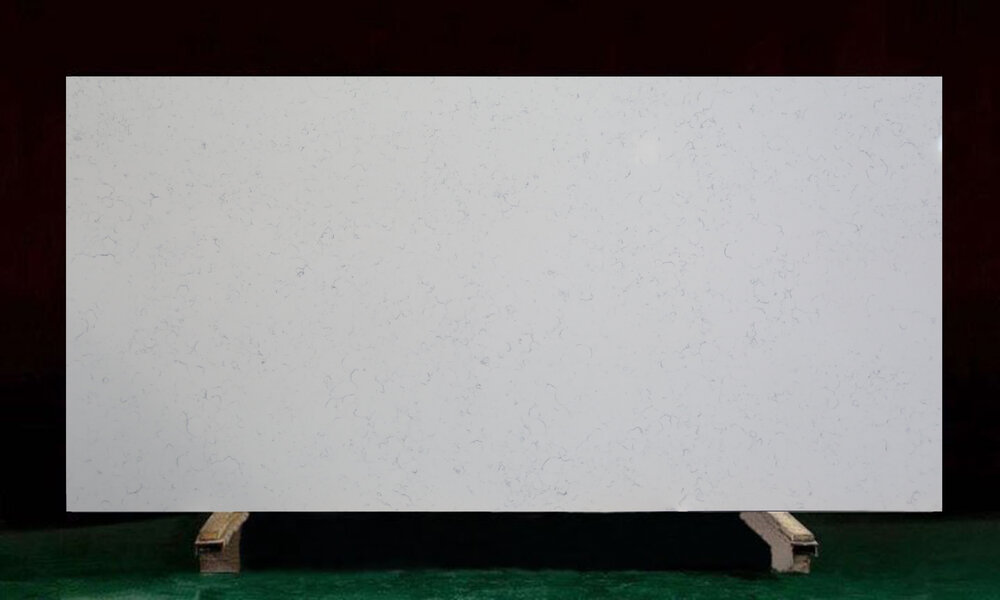 Carrara quartz is characterized by a white or light gray background, dominated by soft gray veins. Veins on Carrara quartz tend to be thin, long, with not much free space on a typical slab. The veins are often not well defined and seem to blend into the slab's surface, instead of being prominent like the Calacatta line.
Due to its delicate, gentle design and harmonious colors, Carrara quartz is very flexible, easy to combine and complement different design spaces. In addition, due to the popularity of this Carrara, it is one of the lowest average priced quartz varieties and truly perfect for those who want to experience the luxury of quartz stone at an affordable price.
The leading brand of quartz slabs in Vietnam
Referring to the quartz market in Vietnam, it is impossible to deny the sustainable value of the Vinaquartz – a quartz brand of Nhat Huy Group.
Top 3 quartz manufacturers in Vietnam – 15 years of establishment and development – ​​Excellent service, etc. are titles for Vinaquartz, the leading manufacturer and supplier of engineered quartz surfaces in Vietnam. As a member of the Nhat Huy multi-industry group, Vinaquartz possesses substantial financial and R&D advantages. Both domestic and international suppliers always appreciate the quality of Vinaquartz's quartz slabs.

The factory is built on an area of ​​50,000m2 with four modern production lines, and hundreds of employees are directly working at the factory, including experienced engineers, creative designers, and professionally trained workers.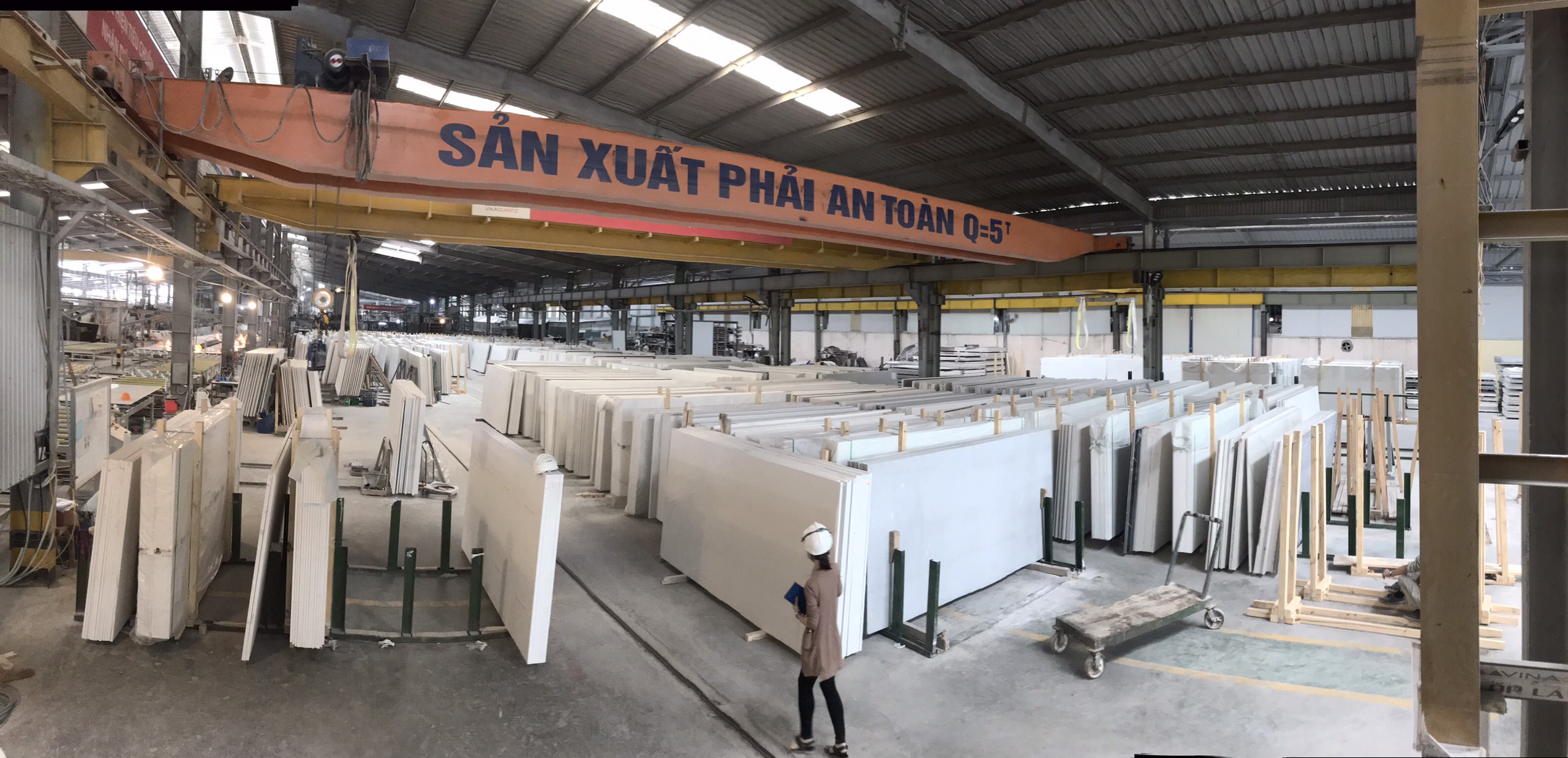 Quartz slab is one of the critical products, has an outstanding export volume in Vietnam, and has many customers from the US, Canada, and Australia markets. Therefore, Nhat Huy Group decided to establish a second factory named Nhat Huy Stone Fabrication, focusing on quartz slabs, cut to size, and prefabs products.
NHS factory (Nhat Huy Stone Fabrication) with a total area of ​​​​52,000 m2 with two main products is quartz slabs & quartz fabrication. The current number of workers at the factory is more than 100 people with ten production lines.
Explore Nhat Huy Stone Fabrication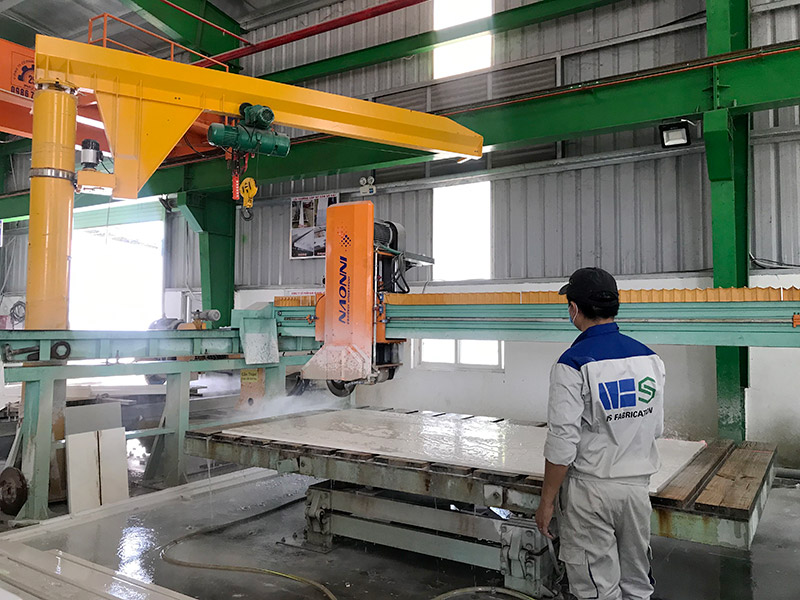 The total output capacity of 2 factories is about 200 cont/month for quartz slab & 30 cont/month Quartz cut-to-size.
Both factories are highly specialized and optimized for production. It is shown in the abilities and expertise of the workers and the R&D team, the technological lines of machines, and the strict quality control process. We ensure that 100% of output products are of Vietnamese origin, do not import cheap materials, and respect the anti-dumping principles of the international trade market.
May you be interested: How professional is the packaging of quartz slabs in Vietnam?
Owning an abundant source of raw materials in the domestic market with the best quality, Nhat Huy Group has also calculated the construction of the factory located next to these raw materials to minimize costs in all stages from exploitation to production.
NHS is the second factory in Nhat Huy Group to produce quartz slabs. Although it is a new factory, NHS is supported by technology from Vinaquartz. With the existing technology at the factory, we continuously create and update new colors and styles every month and improve and enhance with advanced techniques. The defective rate of the output product is only <3%.
Standards for Quartz Surface products
Admire the beauty of NHS's White Carrara
NHS factory always catches up with market trends and considers Carrara an essential quartz slab product in its brand development strategy and increases sales.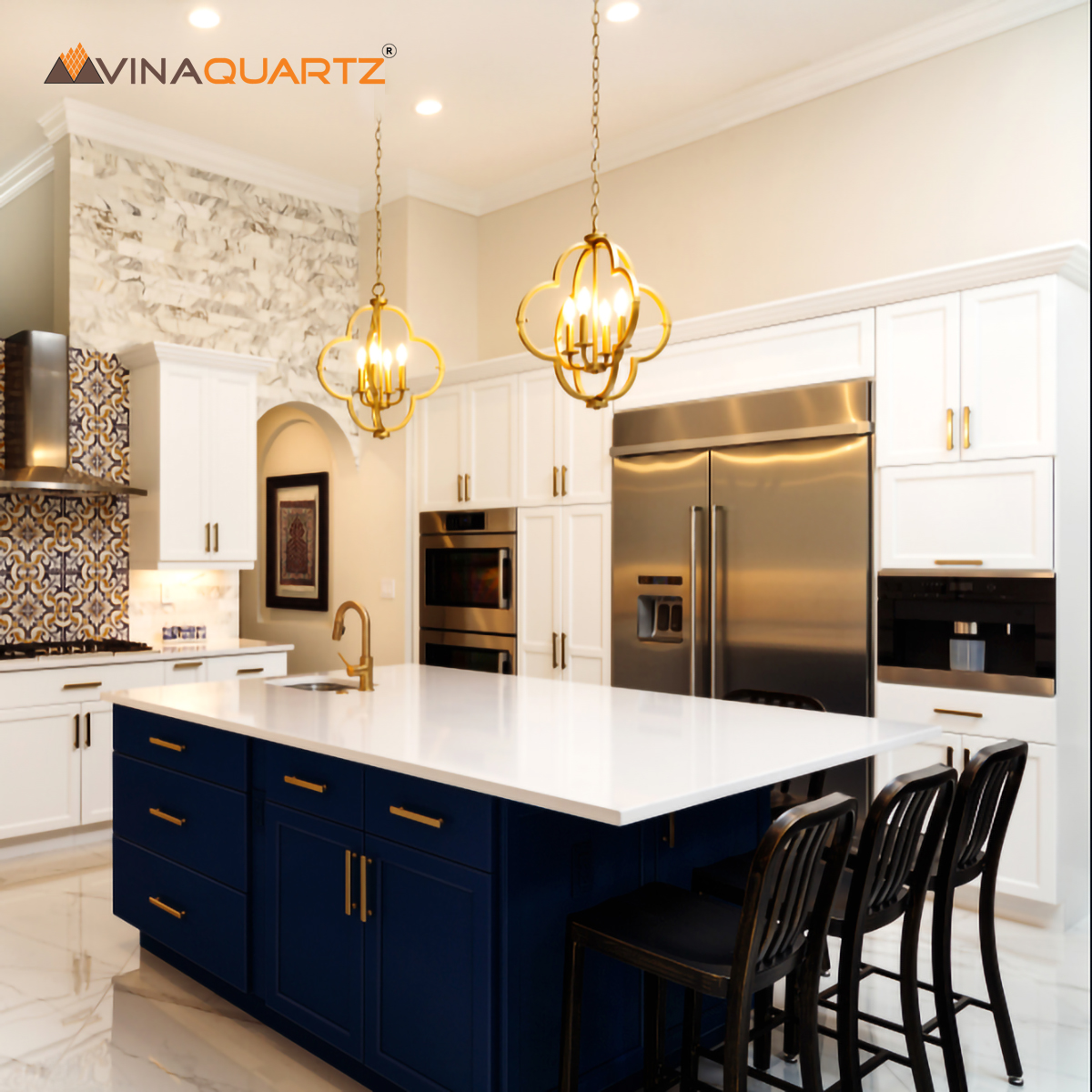 NHS's White Carrara has a white background color, a stable vein density and can be adjusted according to customer requirements (we can help customers increase the density of veins by 3-5% depending on the individual needs of each order).
White Carrara is considered a strategic product because of its elegant, simple but beautiful appearance, easy to coordinate furniture in the kitchen space. If you are a quartz slab distributor, this will definitely be a must-have design and will be out of stock in a short period of time.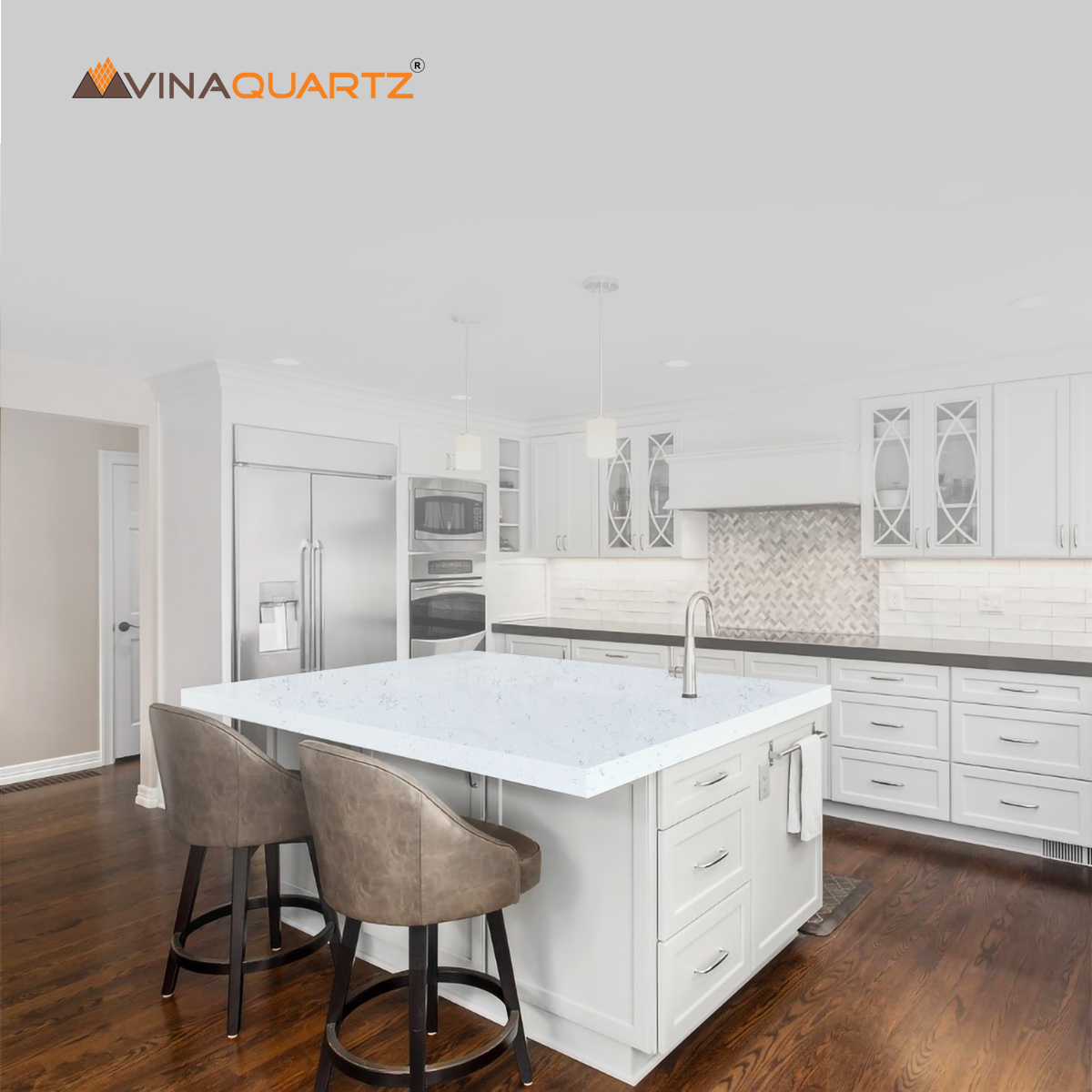 Proactive in raw materials and support from Vinaquartz factory, White Carrara always ensures a large quantity in stock. The price is constantly optimized to benefit customers, especially orders with large quantities.