Reception areas are often the first thing a client or customer sees when they walk into your commercial space. The reception area is customers' first impressions on a company's competence or culture. First impressions are lasting impressions. The view of a front desk or the atmosphere of a reception space will often have some important impact on the business.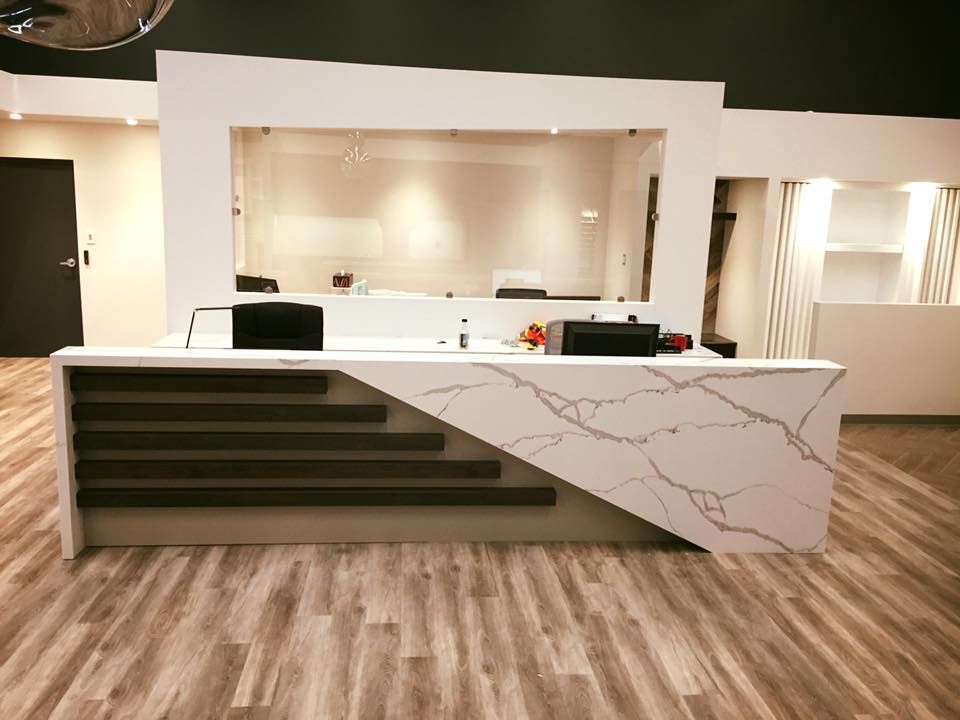 (Source: Pinterest)
Therefore, choosing a material that is both durable and beautiful is important for reception counters. Quartz countertops are becoming more popular as homeowners and business people alike realize the versatility and durability of this surfacing product. Keep reading to see why quartz makes a good material for reception counters!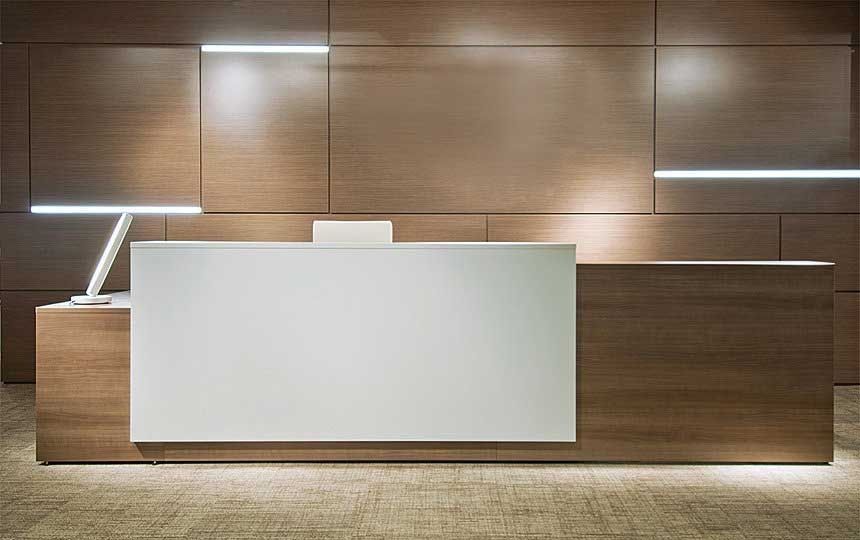 (Source: Pinterest)
3 Reasons to Use Quartz for Reception Countertops
1. DURABILITY
Quartz countertops are from over 90% natural quartz, the fourth hardest mineral on Earth (scoring a 7 out of 10 on the Mohs Hardness Scale). Quartz slabs are engineered for durability and are bound together with resin. Other creative elements such as color pigments are added to quartz slabs to give them certain design aesthetics, such as veins. As one of the hardest materials on Earth, quartz makes virtually indestructible countertops that can stand up to the daily wear and tear of home or office life. Unlike some natural stones, quartz can be used in a variety of applications — including flooring, wall cladding, and countertops — because of its durability. Other materials, like marble, are easily stained and chipped.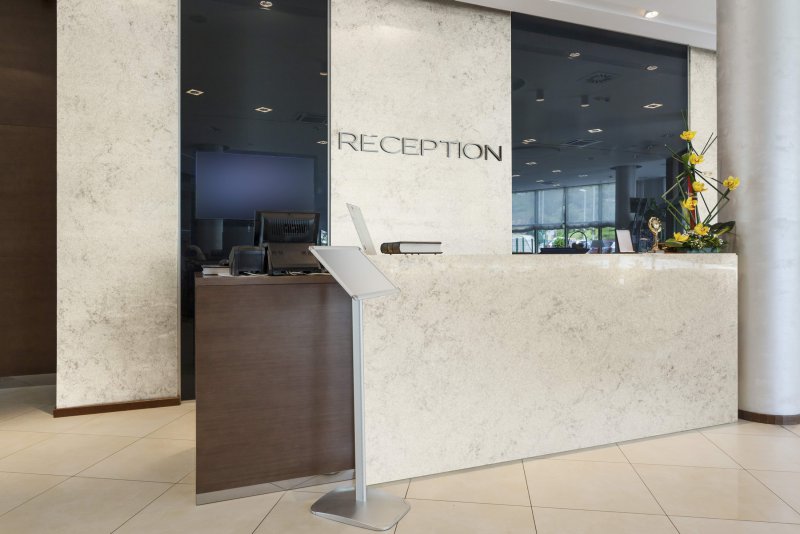 (Source: Pinterest)
2. LOW MAINTENANCE
Quartz countertops are low maintenance because they are nonporous. Many countertop materials — like granite, marble, and butcher block — are porous and require sealing (usually annually). Without proper sealing, the small holes and fissures in porous countertops can become saturated with liquids or germs from food preparation, which can harbor unwelcome and harmful bacteria and germs. Quartz countertops do not require any sealing, because they are solid all the way through. And daily maintenance couldn't be any easier. Just wipe down with a wet sponge and mild soap for daily cleaning.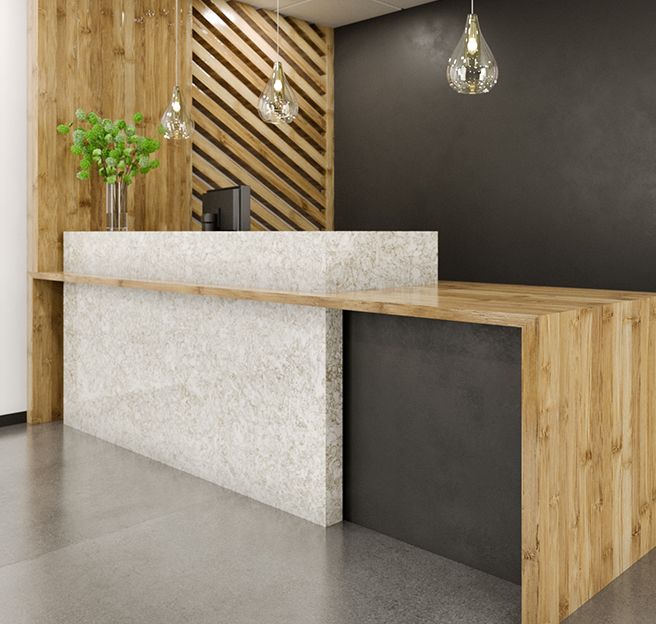 (Source: Pinterest)
3. VISUALLY APPEALING
Quartz countertops are also beautiful and versatile. While marble and granite have distinct looks, quartz countertops can be created in a variety of colors and patterns. Some older quartz patterns resemble granite countertops, while other newer colors have hints of veining that gives them a more marble-esque appearance. Quartz also comes in solid or lightly patterned colors that resemble other popular materials, such as concrete, without the maintenance hassles.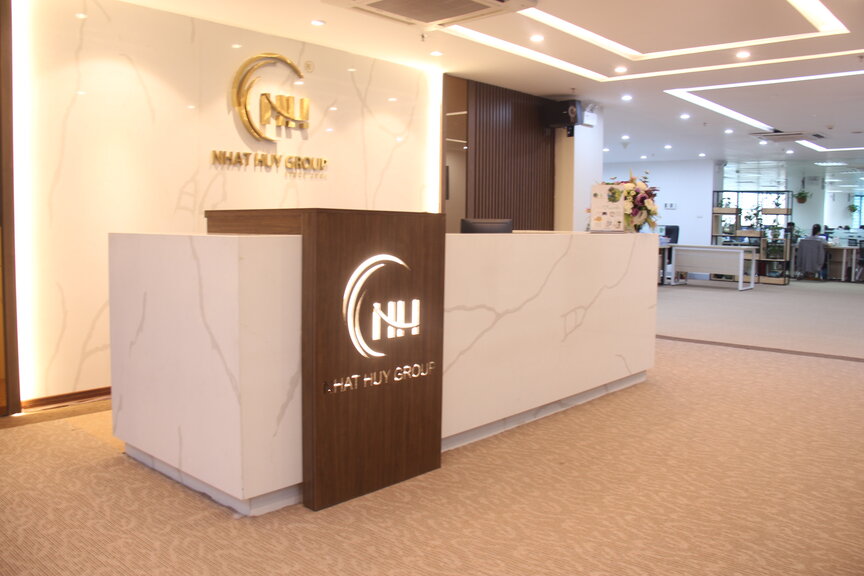 Reception areas at Nhat Huy Group's Office
About Vinaquartz – Vietnam Leading Artificial Stone Manufacturer
Total area: 50 000 m2
Output Capacity: 150 conts /month
Main products: Engineering Quartz Slab
Production line: 4 lines
Worker: 350 workers
Vinaquartz has equipped with high technology production line. We have our own three mines with total reserve of 25 million tons and production lines using the most modern automatic technology. Our annual production capacity obtains 500.000 square meters. Vietnam Quartz Stones JSC has been certificated the ISO 9001-2000 and ISO 14001-2004 for its quality and environment management systems.
See some quartz colors for Countertops from Vinaquartz or discover OUR COLLECTION for more products.